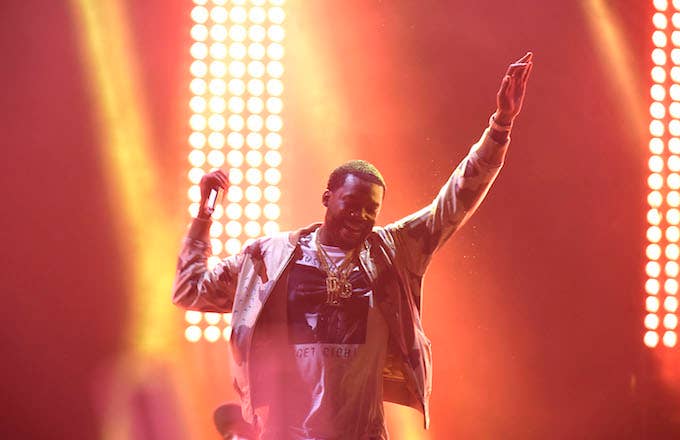 Meek Mill has earned another win in court this week. According to TMZ, the Philadelphia rapper has struck a deal to have his assault case dismissed. The case stems from an incident at the St. Louis Lambert International Airport back in March, when Meek and a couple airport employees got into a physical altercation. Sources said it all started after one of the staff members approached the rapper for a photo.
"I was like, 'What's up, Meek? Can I get a pic?' He was like 'Nah,' and I was just like 'How y'all do us like this and we the fans, and y'all don't show us love? You too good to speak?" one of the airport employees explained to Billboard. "Two dudes walked up on me and was like 'you still trying to fight?' I'm at work I'm just defending myself. They threw the first punch then after that, it was self-defense."
Though no one was arrested at the time of the fight, all involved parties were issued a court summons. Attorney Joe Tacopina said he worked out a deal with the prosecutors to dismiss the case in exchange for Meek's community service, which he reportedly completed at the Veterans Association in Philly.
Earlier this month, Meek cut another sweet deal with the New York County District Attorney's Office. The agreement pertained to his reckless driving charges from August, when NYC police arrested the rapper after he was spotted riding on his bike popping wheelies "in and out of traffic." He was initially facing felony reckless endangerment charges, but that was later reduced to a couple of misdemeanors, according to TMZ. On Oct. 11, it was revealed he had accepted a deal to have the arrest expunged from his record if he put in 30 hours of community service and stayed out of trouble for the next six months.