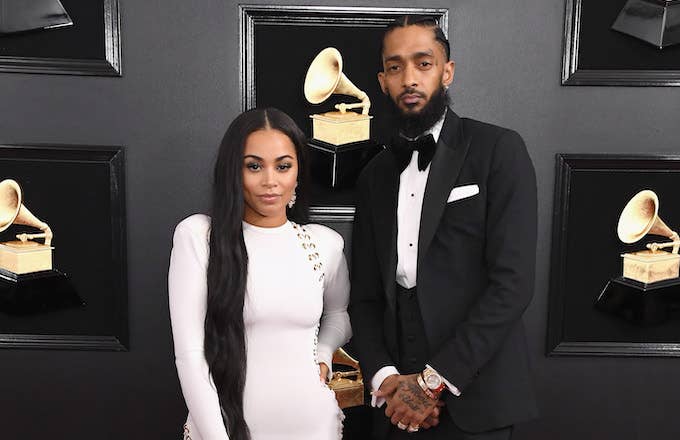 Days after Nipsey Hussle was fatally shot in Los Angeles, his longtime girlfriend Lauren London shared a heartfelt message on Instagram.
"I am completely lost," she captioned a series of photos of the West Coast rapper. "I've lost my best friend, my sanctuary my protector my soul ... I'm lost without you. We are lost without you babe. I have no words."
Nipsey and London reportedly began dating back in 2013, and welcomed their first child—a son named Kross—in 2016. The couple opened up about their relationship in a recent interview with GQ. Nipsey spoke about his appreciation for London and acknowledged all the sacrifices she made for the family.
"Lauren was handpicked by John Singleton to do Snowfall. She read, got the part, shot the pilot ... did stunts ... this was her dream role," the rapper revealed. "And then she got pregnant with our son. That was a really hard decision for her to make [...] I didn't put any pressure on her for whatever decision she wanted to make. I learned then that what she believes in, she really believes in."
Nipsey was fatally shot Sunday afternoon outside his Marathon Clothing store in South Los Angeles. The suspected gunman, 29-year-old Eric Holder, allegedly opened fire on the rapper and two other men, before fleeing in a getaway car. Nipsey sustained gunshot wounds to the head and torso; the other two men survived the attack.
"Mr. Holder walked up on multiple occasions and engaged in a conversation with Nipsey and the others that were there," LAPD Chief Michel Moore told reporters Tuesday. "He left and subsequently came back armed with a handgun, and purposefully and repeatedly fired, striking and killing Nipsey Hussle."
Holder was captured Tuesday afternoon in Bellflower, California.