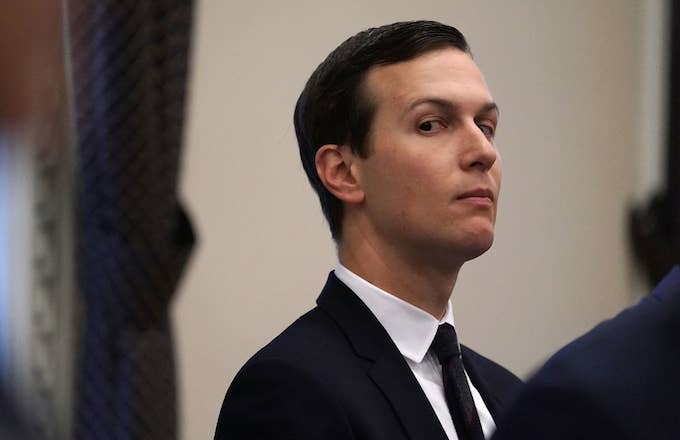 Calls for criminal justice reform surged last year, after Meek Mill received a two- to four-year prison sentence for violating probation in a nearly decade-old case. Though the Philadelphia rapper has since been released, his highly publicized legal battle underscored the nationwide flaws within the system, and the ways in which minorities are disproportionally affected by these flaws.
The conversation surrounding criminal justice was reignited earlier this month, after Donald Trump granted clemency to Alice Johnson, a 63-year-old woman who received a life sentence two decades ago over a non-violent drug crime. Since Johnson's release, which has been widely credited to Kim Kardashian, there have been talks of pardoning well-known figures, such as the late, great Muhammad Ali; however, it appears Trump's son-in-law Jared Kushner wants the president to use his clemency power on living celebrities—specifically rappers.
According to Vanity Fair, Kushner has reportedly encouraged Trump to release incarcerated hip-hop stars, after Kardashian allegedly gave Kushner a list of people who she believed should be pardoned.
"They're going to be pardoning a lot of people—pardons that even Obama wouldn't do," a source told Vanity Fair.
Though the report doesn't name specific rappers, there are many artists who could've made Kardashian's list, such as Bobby Shmurda, C-Murder, Kodak Black, and even Meek.
To absolutely no one's surprise, sources claim not everyone in the Trump administration is happy about Kushner's alleged pardoning mission. U.S. Attorney General Jeff Sessions "hate, hate, hates it," one insider said.
There's no doubt that large-scale pardons would upset a portion of Trump's base; however, many suspect this potential move could earn the president some points among demographics that have consistently opposed him.
CNN host Van Jones told the publication Trump enjoyed receiving positive media coverage following Johnson's release: "Trump was pleasantly surprised," Jones said. "I hope the president feels encouraged to do more."