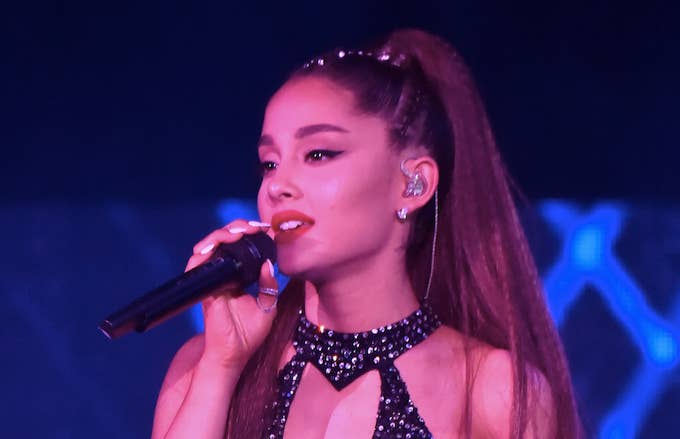 The Ariana Grande vs. Grammys drama continues.
On Thursday, the award show's producer Ken Ehrlich confirmed Ariana would not perform at this weekend's ceremony as originally planned. Ehrlich told the Associated Press the singer canceled her appearance because she "felt it was too late for her to pull something together." Ariana eventually caught wind of the producer's comments and accused him of lying.
"I've kept my mouth shut, but now you're lying about me," Grande tweeted. "I can pull together a performance overnight and you know that, Ken. It was when my creativity & self expression was stifled by you, that I decided not to attend. I hope the show is exactly what you want it to be and more."
She continued: "I offered three different songs. It's about collaboration. It's about feeling supported. It's about art and honesty. Not politics. Not doing favors or playing games. It's just a game y'all. And I'm sorry but that's not what music is to me."
Ehrlich addressed Ariana's claims in a recent interview with Rolling Stone, saying he was both "bothered" and "surprised" by the posts.
"I saw those tweets and what she said. I guess it was a surprise," the producer said. "I will say this, and they don't want me to say it, but I'm going to say it: The thing that probably bothered me more than whatever else she said about me is when she said I'm not collaborative."
Ehrlich went on to mention other instances in which he worked closely other Grammy performers—like Christina Aguilera, Mary J. Blige, and Melissa Ehteridge—to create some of the show's most memorable moments. Ehrlich also claimed he never spoke to Ariana directly, and communicated only with her management team.
"I don't know if I'm good at anything else, but I understand artists and I can hear other artists in an artist," he said. "I don't say to people, 'This is what you should do.' I approach it casually and say, 'Hey, this might be a good idea, let's find something in the middle.'"
The 61st Grammy Awards will air live at 8 p.m. ET this Sunday on CBS. This year's performers include Cardi B, Lady Gaga, Travis Scott, Post Malone, and Janelle Monáe.