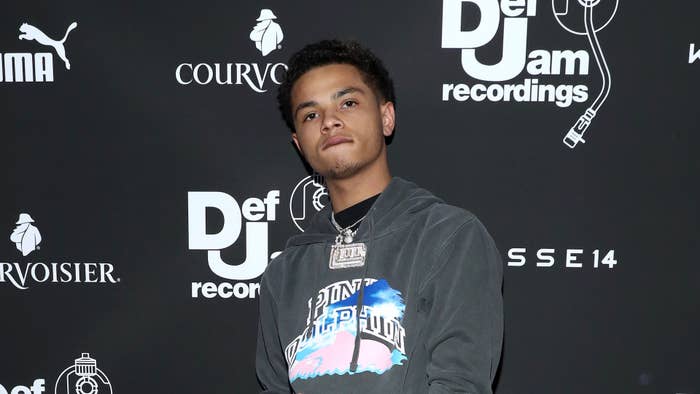 UPDATED 5/25, 2:34 p.m. ET: Bay Area rapper Lul G has been formally sentenced to 21 years in state prison.
According to East Bay Times, the former SOB x RBE member received the sentencing on Monday, about three months after he pleaded no contest to the 2019 killing of Rashied Flowers. As of Thursday, Lul G was still in custody at the Correctional Facility in Fairfield, California, where he awaits transfer to the California Department of Corrections and Rehabilitation.
See original story below.
Though he managed to dodge a murder charge, Lul G is likely to spend years behind bars.
The former SOB x RBE rapper will receive a 21-year prison sentence for his role in the death of Rashied Flowers, a 26-year-old man who was fatally shot in 2019. Lul G—legal name George Harris—was arrested shortly after the killing and subsequently charged with first-degree murder; however, Lul G's charge was reduced on Thursday after he agreed to plea no contest to voluntary manslaughter.
Lul G's attorney confirmed to Complex that his client will receive a 21-year sentence at a hearing that's scheduled for May 22 in in Fairfield, California.
According to The Reporter, the rapper's plea deal helped him avoid a possible life sentence as well as gun-related charges stemming from a previous felony conviction. 
Lul G has remained locked up since September 2019, about two months after Flowers was shot in a Fairfield home. Authorities said three "uncooperative witnesses" transferred Flowers to a hospital and told staffers the man had been shot at a Cordelia park. 
Prosecutors said Lul G, Flowers, and others were at the residence for a music video shoot, which was put on pause for an unspecified "dice game." Lul G and Flowers reportedly partook in the gambling before an altercation ensued. As the situation escalated, the rapper allegedly opened fire on Flowers in the home's garage. 
Lul G had pleaded not guilty to the first-degree murder charge.
The Vallejo rapper was a founding member of the SOB x RBE hip-hop collective. About two years after forming the group, Lul G inked a solo deal with Def Jam Records.