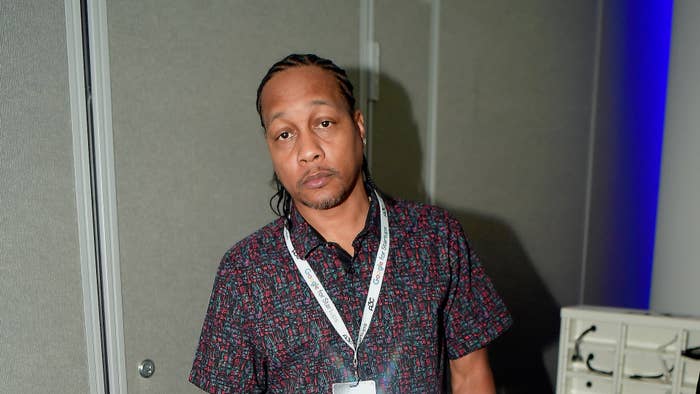 DJ Quik says he was almost involved in one of music's most notorious crime, but managed to avoid the incident thanks to his mother's intuition. 
During a recent interview with Los Angeles Times, the Compton native recalled the day of 2Pac's fatal shooting, and how Suge Knight was pressuring him to attend the Mike Tyson boxing match later that evening. 
"My mom was so gangster," Quik said. "She made Suge and them leave when they tried to get me to come with them to the Tyson fight that night [On Sept. 7, 1996, in Las Vegas, 2Pac was fatally shot; Knight was in the driver seat.] She said, 'If y'all don't get away from my motherf—n' door I'm gonna start blastin'. I'mma call the police first then shoot y'all in y'all motherf—n' ass.' She had all the guns."
After the fight at the MGM Grand, Pac got in a BMW with Knight behind the wheel. The two were reportedly on their way to Knight's Club 662 venue when a drive-by shooter pulled up to the vehicle and opened fire. Pac was hit four times, and succumbed to his injuries days later. 
In a 2013, interview with AllHipHop, Quik spoke about his time with Death Row Records and whom he believed was responsible for its demise. The 52-year-old rapper pointed to Knight's associate Travon Lane, a Compton gang member who allegedly started a brawl in the MGM lobby following the Tyson fight. Many suspect the altercation, which was caught on surveillance cameras, is what ultimately led to Pac's shooting; however, authorities concluded the fight was not connected to the ambush. The murder of Pac remains unsolved.
You can read Quik's full interview at the LA Times' website. He also discusses his recording process, upcoming projects, and the death of his mom, Delma Armstrong.
"The most amazing person ever," he said about his mother. "She was beyond words because she was beauty. She was like 'Keep on Trying' from the Impressions. These were the records she used to listen to. Wes Montgomery's 'Bumpin' on Sunset.' I'm like, 'Damn, Momma, you playing records called 'Bumpin' on Sunset' from Verve Records?' My moms was a tastemaker. She gave me the line, 'If you stay ready, you ain't gotta get ready.'"