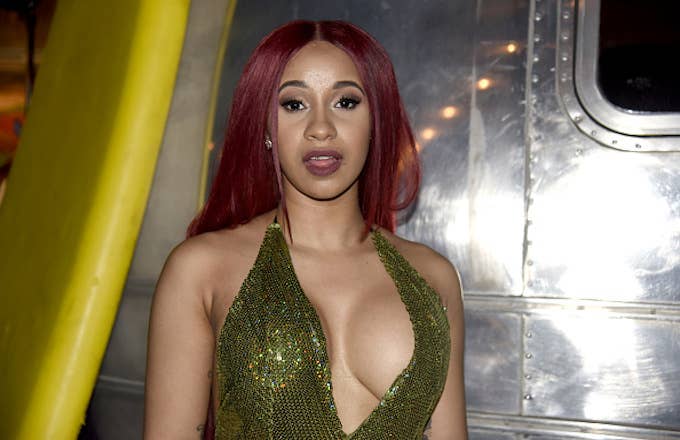 Cardi B is fed up. Just days after she nabbed her first BET Awards nominations, the Bronx native decided to shut down those who questioned her talent. And you already know she didn't hold back.
In a video posted on Twitter, Cardi called out all the men who tried to discredit her success all because she used to be a stripper. The former Love & Hip Hop star pointed to double standards in the industry and made no apologies about her past.
"A lot of y'all men, I be getting a lot of backlash and fucked up backlash," she said in the video. "And it be from y'all niggas. Especially because I used to be a stripper. OK, I used to be a stripper. I needed a job that's going feed me. Your fucking favorite rapper used to fucking work in places like McDonald's, my nigga."
She went on to say that her music is authentic and she's never put on a front—unlike many male MCs.
"At least everything I rap about is real life shit," Cardi said. "I've always been a static-y bitch, and I've always been a bitch that got it poppin'. Your favorite rapper is not like that. Your favorite rapper is not a gangsta. Your favorite rapper raps about selling drugs that he never even touched before." 
On the day she found out she was nominated for Best New Artist and Best Female Hip-Hop Artist, Cardi immediately expressed her gratitude on social media. 
Cardi is clearly on top of the world, and there's no hater who can bring her down.
"Just because I used to be a stripper does not mean that I'm not fucking talented, my nigga. I sit down, I write my shit and I take my time in the studio, and everything I rap about is real life shit," she said at the end of the video. "[…] Y'all niggas always bashing women down, fuck out of here. We gave birth to y'all niggas. We made y'all niggas, so respect my shit and go listen to my muthafucking mixtape [Gangsta Bitch Music Vol. 2]."