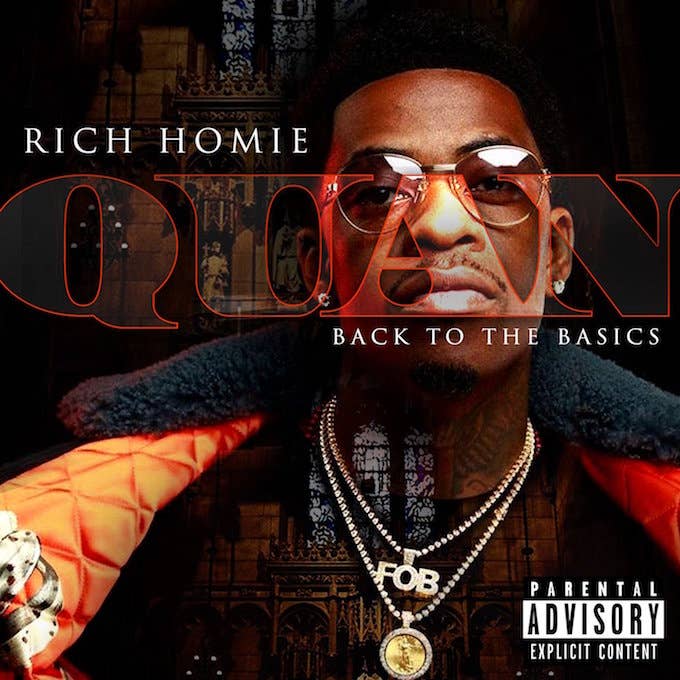 In the fall of 2013, three things were certain: death, taxes, and that Rich Homie Quan would never stop going in. Somewhere along the line, the unthinkable happened. One of life's certainties spun out of control, and what's worse, Quan himself was responsible. He slipped. However, on the same Friday dominated by Kung Fu Kenny's treatise on Old Testament curses and Playboi Carti milly rocking in the Big Apple, Rich Homie Quan dropped a project that musically matched the creative peaks of his 2013-2015 run. 
Back to Basics, Quan's latest mixtape, is triumphant, emotionally guarded, and deeply insular. Lyrically, Quan raps from behind a thick smog of paranoia, dread, and mistrust. The beats are nimble, purposeful, and dark. They provide the world-weary Quan a springboard to detail the trials and tribulations of the past two years: a stint in Dekalb County jail, harmful and misguided lyrics about rape, the dissolution of a great contemporary rap duo, and unfortunate label disputes. It's a project born from the mistakes Quan himself made and the betrayal he's felt.
The somber "Heart Cold" produced by Izze the Producer and Robin Banks finds RHQ battered and bruised. Narratively it circles familiar subject matter for Quan—the trap, loyalty, death. It reads like a statement on his post-Rich Gang/post "Flex" existence. The closing bar of the hook says it all: "I'm paranoid, geeked up/I see dead people, I see you before you comin', I'm lookin' through the peephole." Who are these dead people and to what extent is the door a symbol of Quan shutting himself off from the fickle industry that moved on without him?
In the time RHQ was sidelined by label issues his contemporaries eclipsed him. His sense of melody and penchant for writing massive hooks ("Type of Way," "Walk Thru," "My Nigga") is no longer a unique skillset. Quan's peers have successful singles, they sit front row at fashion week, and they're enjoying the type of popularity that seemed destined for the star that burst on the scene with "Type of Way."  
Throughout Back to Basics, RHQ places his displeasure at the feet of fans, friends, critics, and the city of Atlanta. The first words you hear on the album is Quan matter-of-factly stating, "Yeah, they said I wouldn't be shit/They thought that shit was over with." He goes on to mention his hit single "Flex" going double platinum, but still feeling like the city of Atlanta isn't proud of him. To be fair, amidst two apologies for lyrics centering around rape and a stint in jail, there wasn't much for fans to be proud of in the summer of 2015.
The crux of Back to Basics is the divide between Rich Homie Quan the rapper and the man. In a 30-minute video that accompanies the mixtape's release, Quan confesses to a minister, saying, "It goes back to the question, is Dequantes Devontay another side of Rich Homie Quan?" Where the sins of RHQ begin and Dequantes end, and the role religion plays in absolving both sides of sin, is central to the project, especially on a song like "Lord Forgive Me." When Quan sings, "I ain't saying that I'm perfect, I know I sin everyday all I ask is Lord forgive me, Lord forgive me," it's one of the first steps he takes toward owning his past transgressions.  
The mixtape isn't without levity. Quan saves not one, but two bars for all of the biters that stole his hairstyle—"That's why I had to grow my hair afro that turned to the trend" on "Never Made It" and "Everybody know it, since I cut my hair I feel like everybody Quan" on "Replay." This bizarre, obsessive rap minutiae makes Back to Basics enthralling. If the music industry is its own workplace sitcom, Quan is Ryan Howard making a list of every perceived slight no matter the degree of severity.
And then there are the potential hits Quan sprinkles across the mixtape. "Da Streetz" finds Quan rapping on the hook, "I ain't know nothing 'bout no drank until the age of 13/I ain't know nothing 'bout no money 'til the age of 14/I ain't know nothing 'bout no condom 'til the age of 15" over Zaytoven's twinkling keys. That "Da Streetz" is almost eclipsed one track later by "Replay" shows how carefully Quan has been to craft a tape that balances making replayable hits and catching fans up on his tumultuous journey. On "Replay" he shouts out Mannie Fresh's contributions to "Go DJ," while simultaneously conjuring the spirit of Wayne's delivery on the aforementioned song. What connects both tracks is that they contain everything a perfect Rich Homie hook has: simplicity, repetition, humor, and extra charisma.
Rich Homie Quan's future comes into full view with the last track, "Str8." "Sometimes it feels like they don't even care about me/I was vulnerable and lonely the whole 15 months I was in Dekalb County." The candid lines are delivered over a buoyant and uplifting beat, making the revelation more jarring; a glimmer of hope that cuts through the claustrophobia. The beauty of Quan's cathartic statement blossoms when you realize by song's end he'd found peace within himself by looking to the joy providing for one's family affords.
For the length of Quan's career, he's promised something simple...that he will never stop going in. Unfortunately, most of us never stopped to wonder about the price paid. What does it do to a man's soul? If part of growth is failure, than must you sometimes void the promises you said you'd keep?
Rich Homie Quan can make hits, but on Back to Basics he gives fans something more valuable. He puts his pain on display, finds redemption through religion, and ends on a note of resilience and determination.