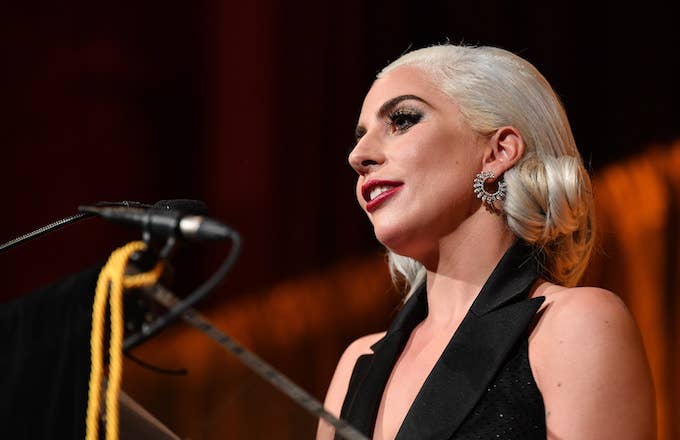 UPDATED Jan. 11, 5:17 p.m. ET: Lady Gaga came through on her promise: "Do What U Want" has been removed from Spotify and iTunes, stripped from her 2013 album, ARTPOP. Although she didn't offer further comment beyond her original apology, Billboard reports that Gaga did approach her label, Interscope Records, to ask for help removing the song.
See original post below.
There's been pressure on a number of entertainers to denounce R. Kelly following the airing of Lifetime's docu-series. Lady Gaga's name has come up more times than others because she collaborated with him on 2013's "Do What U What" and got called out by Surviving R. Kelly showrunner dream hampton for declining to appear on the show.
The singer-actress broke her silence days after the series finale. In a note posted on Twitter, Lady Gaga, herself a sexual assault survivor, apologized and said she would be removing "Do What U What" from streaming platforms. While distancing herself from the song, Lady Gaga explained she was at a "dark time" in her life when she went through with the collaboration.
"[M]y intention was to create something extremely defiant and provocative because I was angry and still hadn't processed the trauma that had occurred in my own life," she says in the note. "The song is called 'Do What U Want (With My Body),' I think it's clear how explicitly twisted my thinking was at the time.
"If I could go back and have a talk with my younger self I'd tell her to go through the therapy I have since then, so that I could understand the confused post-traumatic state that I was in—or if therapy was not available to me or anyone in my situation—to seek help, and speak as openly and honestly as possible about what we've been through."
Lady Gaga and R. Kelly also faced criticism when "Do What U Want" came out partly because of the explicit sexual nature of the song. The two were filming a music video, but it was reportedly scrapped because of the ongoing sexual assault allegations against R. Kelly and Terry Richardson, who shot the canceled flick and the single's cover. Two months after the song was released, the Village Voice published a much talked-about discussion of R. Kelly's alleged sexual abuse.
Since then, Lady Gaga has been an outspoken advocate for sexual assault survivors. In 2015, she released the Academy Award-nominated "Til It Happens to You" for The Hunting Ground, a documentary on college campus sexual assault. In a Late Show With Stephen Colbert appearance during her A Star Is Born press run, Lady Gaga applauded Dr. Christine Blasey Ford for Supreme Court justice Brett Kavanaugh's alleged sexual assault.
Dave Chappelle, Erykah Badu, and JAY-Z are some of the others hampton called out for not participating in her series. Surviving R. Kelly did feature John Legend, who also denounced the disgraced singer on Twitter as the first installment aired. Chance the Rapper also appeared via an old interview. Though he said his quote was taken out of context, Chance went on Twitter to "apologize to all of his survivors for working with him and for taking this long to speak out."