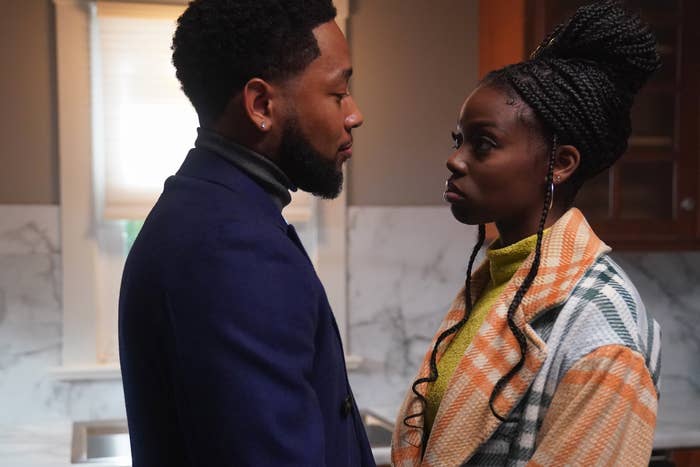 No television show is complete without a soundtrack. The right songs add flavor and emotion to scenes, meshing with great writing and acting to create transcendent art. That's certainly the case with hit SHOWTIME® Original series The Chi. The show famously features a score by Wyclef Jean, but also draws on Chicago's rich musical history, and upcoming artists from other cities, to create soundscapes that match its realistic portrayal of life on the South Side. This season, The Chi has a new streaming home on Paramount+. With its new home in mind, Complex was able to get a sneak peak of some of the songs from the show's latest run. Here are three of our favorites, along with an analysis of why they work so well and how they tie back to some of the events onscreen.
Long before drill, Chicago had a reputation as a home for more conscious hip-hop. Lupe Fiasco's skate ballad "Kick, Push" helped cement that title, with the Windy City MC stepping to the mic to recount the tale of a determined anonymous skateboarder who grows from grom to ripper while romancing an unnamed young woman along the way. Rich with imagery, "Kick, Push" is a meditation on determination and finding oneself. Those themes resonate with a number of characters in the new season of The Chi, from Kiesha, with her drive to start a new career while balancing work with family life, to Papa, who faces new challenges that force him to step up to become the kind man he wants to be.
Stakes are high in The Chi. Moving in worlds ranging from politics to crime, characters like Victor and Douda live by the credo "OUR STREETS. OUR WAY," even as they must contend with fierce rivals and the unexpected consequences of their actions. Chicago rapper Lil Durk explores these things and more in his vivid, delirious "No Interviews," which ranges from triumphant to paranoid over its three-minute runtime. Leveling up in The Chi has its rewards, but omnipresent danger stalks the ambitious. Lil Durk nails that feeling when he says, "I went to court early off a Percocet." Buzzy, catchy, but menacing and powerful. Just like The Chi.
Jai'Len Josey is a singer-songwriter and actor on the come-up. Signed to Hillman Grad Records, a label founded by The Chi executive producer and Chicago native Lena Waithe in partnership with Def Jam, Josey's ascendance echoes the stories of many characters on this new season. In her story and music, we see glimpses of Emmett and his next-level devotion to Smokey's, as well Kevin's ardor for gaming. Packed with lyrics that yearn to transcend and a driving funk beat, her new song, "Take Me Higher," matches those themes, elevating them to a passionate ecstasy that's familiar to those living in The Chi.
To hear these songs in context on The Chi, stream the new season now with the Paramount+ with SHOWTIME® plan.