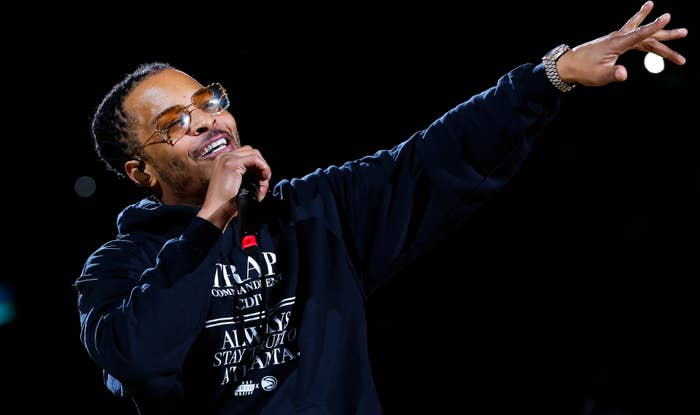 The recent beef between T.I. and Boosie Badazz appears to have run its course.
During a quick chat with TMZ on Thursday, T.I. revealed that he and the Baton Rouge rapper have buried the hatchet, adding that Boosie is aware that he "misspoke" when accusing the Atlanta native of snitching on his dead cousin to avoid a gun charge.
"I believe that [Boosie] has come to terms with that understanding, and it'll be handled offline," Tip shared. "It ain't no beef."
When asked if the dispute between him and Boosie should've been dealt in a "private manner," T.I. said, "Yeah, the way it should've been in the first place."
A couple weeks ago, Boosie announced his decision to scrap his long-awaited album with Tip, telling VladTV he dropped the project after learning T.I. had "snitched" on his late cousin, Toot, in an effort to dodge a gun charge. T.I. went on to deny the allegations and claimed he had "paperwork" to prove he wasn't a rat.
"I got some paperwork to show them," T.I. said. "And when you leave up out this muthafucka, please let a muthafucka know that the paperwork was present, and if they wasn't here, they shouldn't be saying a muthafuckin' thing about the king."
He continued: "I've been waiting on one special invited guest to show up, and he ain't showed up yet. But it was somebody that had something to say about me and had to question my disposition in some of my cases. But he ain't here to see my paperwork. And I just don't like for a n***a to get fly then get shy … I'm right here in the center, you hear me? So, come on if you got something to say about me. If you think it is what it ain't, it ain't but one way to clear it up. Pull on up, let me show you what you lookin' for. I wanna see who wanna see it."