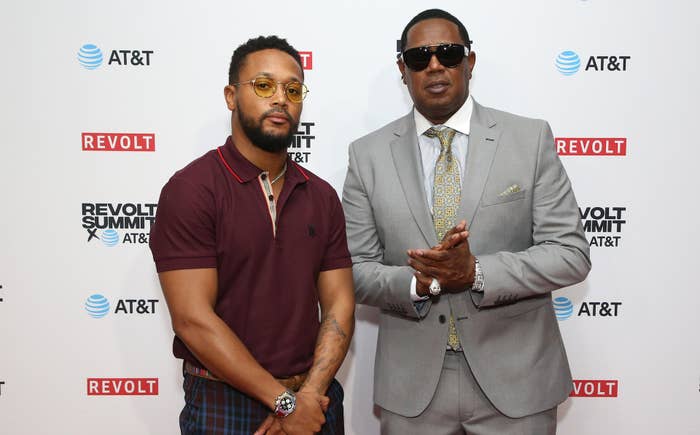 Master P and his son Romeo exchanged verbal jabs this weekend, as the latter ripped the former for airing out family drama on social media.
On Friday, Romeo called out his father, blaming the death of his sister, Tytyana Miller, on his father ignoring her struggles with mental health. He also shared a poem titled "The Tree of Trauma" on Instagram.
"Today was a boiling point," Romeo wrote at the time. "I seen a man avoid his own children struggle with suicide and depression but post another man whom passed today that he doesn't even know. Yall idols be lost. Better stop following the blind. Watch when it's revealed."
On Sunday, Master P responded, ripping Romeo and "this new generation of kids" for "blaming their parents for everything."
"How do they think they got to where they are without their parents making sacrifices for them?" Master P wrote. "Mental illness is real and so many families are tragically affected by it especially when there is added trauma like death of a loved on."
"Son, I love you. Stop trying to get people to feel sorry for you. And let's come up with a solution," he added. "You can come talk to your father and your family, like a man, you have kids too. No family is perfect but together with God, we can heal and get through this."
In a subsequent Instagram post, which has since been deleted, Master P reminded Romeo that he will not "tolerate disrespect."
"@romeomiller What's the plan?" he wrote. "You are either part of the problem or the solution. I love you and the door is always open for you but I won't tolerate disrespect. I haven't talked to you or seen you in months. God knows I've tried my best."
Romeo later responded in the comments sections, admitting that Master P's remarks are the "last straw."
"I loved you so much that I followed you blindly for 30+yrs," he continued, "You know we've talked behind closed doors. You aren't the man who you paint to be and why is it war because I refuse to follow ur lead. You only want to protect your image, but the image isn't even real."
Check out Master P and Romeo's back-and-forth below.