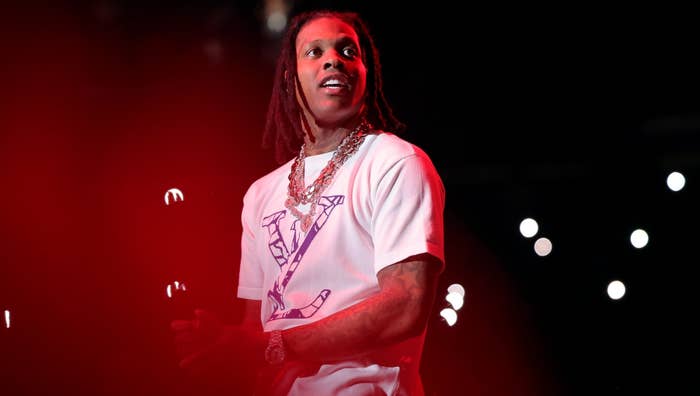 Lil Durk has shared his thoughts on Drake name-dropping him in a recent collaboration with Young Thug.
On "Oh U Went," a track off Young Thug's latest album Business Is Business, Drizzy's guest verse features the Toronto rapper recalling an interaction with a woman, who he claims gave the Chicago rapper a suggestive look.
"She probably let both of us hit/The way that she smirkin' at Durk/She gettin' cake off the picture she take/I say, 'Girl, if it work then it work'/F**k a wedding dress, I'm tryna merk it and skrrt," Drake raps on the song.
In a recent interview with MSNBC, Durk was asked if the woman did, in fact, "smirk'" at him.
"I hope so," he replied. "I'll feel more confident and more happy with myself."
When asked about the woman in question, Durk said that he trusts Drake's recollection of the alleged incident. "If he said it, he seen it," he said.
Drake and Lil Durk have had a close relationship in recent years, with Durkio delivering guest verses on the 6 God's 2020 single "Laugh Now Cry Later" and "In the Bible," a cut off Drizzy's 2021 album Certified Lover Boy.
Despite his bond with Drake, Lil Durk hasn't shied away from expressing his belief that he's on the Toronto rapper's level in terms of popularity.
During a 2022 appearance on Gille da Kid and Wallo's Million Dollaz Worth of Game podcast, Durk was asked to shed light a previous statement he made in which he declared he wanted to be "bigger than Drake."
"Shit, to us, in this mothafucka, we bigger than him, you know what I'm sayin?" Durk shared.
"To my people," Durkio continued. "We touch people. Drake's at a rate where he can stay in the fucking house if he want to. But nah, shout out to him. He touched the youth. That's one thing about him. He touched us and got us hotter than what the fuck we was but a lot of people can't say that. Like a lot of these mothafuckas don't even know him but a lot of people he talk to don't me know. Like, that's just what it is."