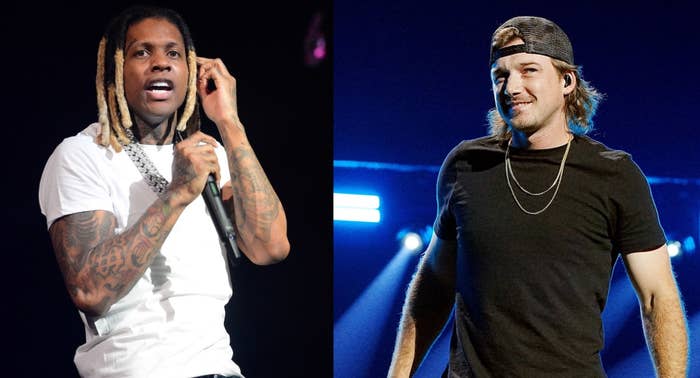 Fresh off teaming up with a new collaboration on Lil Durk's new album, the Chicago rapper and Morgan Wallen went fishing together this weekend in the country singer's home state of Tennessee.
Durk and Wallen shared pictures of their fishing session on Instagram. "Family is family can't nothing change that," Durk captioned a picture of him and Wallen holding up . "P.s. I'm done wit fish."
"Durk done pulled up and taught me how to fish," Wallen wrote on his Instagram post. Durkio responded in the comments: "Family energy."
Durk's fishing session with Wallen arrives days after the Chicago rapper returned with his latest full-length offering, Almost Healed. His eighth studio album, the project serves as the official follow-up to Durkio's 2022 LP 7220.
Wallen shows up on "Stand by Me," marking his and Durk's first collaboration since their 2021 hit "Broadway Girls."
The 21-track project features guest appearances from J. Cole ("All My Life"), Future ("Never Imagined"), 21 Savage ("War Bout It"), Kodak Black ("Grandson"), Rob49 ("Same Side"), Juice WRLD ("Cross The Globe"), Alicia Keys ("Therapy Session"), and Chief Wuk ("Big Dawg").
On the production side of things, Almost Healed boasts beats from Chopsquad DJ ("Pelle Coat," "Never Again," "Put Em On Ice," "Never Imagined"), Metro Boomin ("War Bout It," "Grandson"), Southside ("Before Fajr"), Wheezy ("300 Eruos," "Cross The Globe"), Dr. Luke ("All My Life," "Stand By Me"), and ATL Jacob ("Big Dawg"), among others.