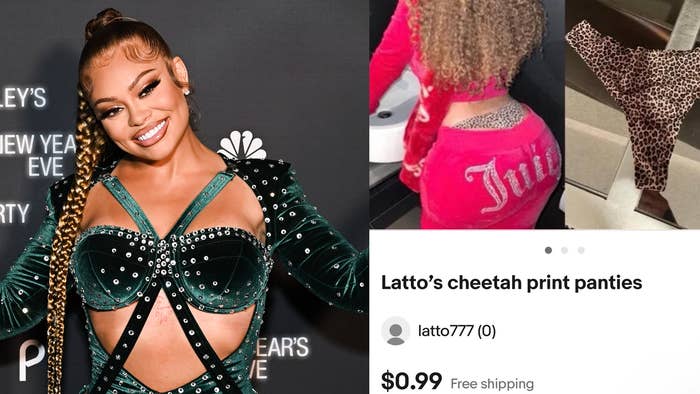 A bidding war over Latto's used underwear came to an uneventful end on Monday, with eBay removing the listing over health violations.
Over the weekend, a social media troll called out Latto for wearing a pair of Cheetah-print panties on two different occasions. "Can't afford new panties?" the Twitter user wrote on a picture of the rapper wearing the same pair of underwear.
It didn't take long before Latto caught wind of the troll's bizarre observation, as the 777 rapper clapped back, "Oh no, it's the panty police."
From there, Latto decided to do some trolling of her own, as she announced she'd be auctioning off the pair of underwear on eBay. 
"In light of my panty discrepancy yesterday, I've decided to give you guys an inside look on my panty drawer," she said in a video posted to her Instagram Stories. "These are all my Target panties that caused such a discrepancy yesterday. $5 at Target, here's the cheetah stash."
Hours later, Latto made good on her word, posting an eBay link to the panties, with bidding starting at $0.99.
"Auction live on eBay since I can't wear them twice," she wrote. "Link in bio."
Within hours, more than 100 people had placed an offer on the panties, as the bid climbed to a whopping $95,650.
Alas, the panty police returned again, this time in the form of eBay, which decided to take down the posting. According to Insider, eBay said the auction violated its "used clothing policy," while also infringing on the site's "health and hygiene" guidelines.
"eBay is committed to maintaining a safe and vibrant community by ensuring goods sold on our platform comply with our policies, including our health and hygiene standards," a company spokesperson told Insider in a statement. "Listings that include used underwear are prohibited under our used clothing policy."