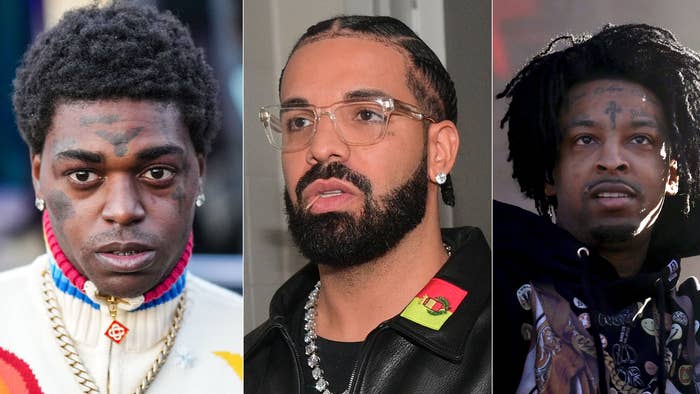 Kodak Black no longer wants to collaborate with Drake after the Toronto rapper joined forces with 21 Savage for their 2022 joint project Her Loss.
"I had told Drake I don't wanna do no collab," Kodak said during a recent livestream. "No songs or no album. 'Cause we supposed to done did a whole album before him a lil' buddy." 
"Lil' Buddy" is in reference to 21 Savage, who beefed with Kodak last year after claiming he'd "smoke" the Florida rapper in a Verzuz battle.
"Before him and lil' buddy did that shit," Kodak continued. "I had told him I wanted to wait [until] like, 2023. Like, after February."
Kodak most recently hinted at a potential collab with Drake last summer while celebrating his Kodak Black Day music festival.
"Me and Drake, we got some more music," Kodak said. "It's really on like whenever bruh might feel like he ready and stuff. They be like, 'Is we gon' drop the album? We gon' do this?' It's really on him. We got a lot of songs though."
Kodak began teasing a collab album with Drizzy as far back as January 2020, when the Pompano Beach rapper suggested teaming up for a joint project in Drake's IG comments, saying, "I Am Your Biggest Fan Sir. … If We Can't Do A Whole Album Together, I Never Want To Do A Song With You Sir."
Months later, when Kodak dropped his Haitian Boy Kodak album, Drake had positive words again, telling Black, "Man you always give me that inspiration...Real POET...Oracle. … Man let's do some music for sure. But for real you really on another level."