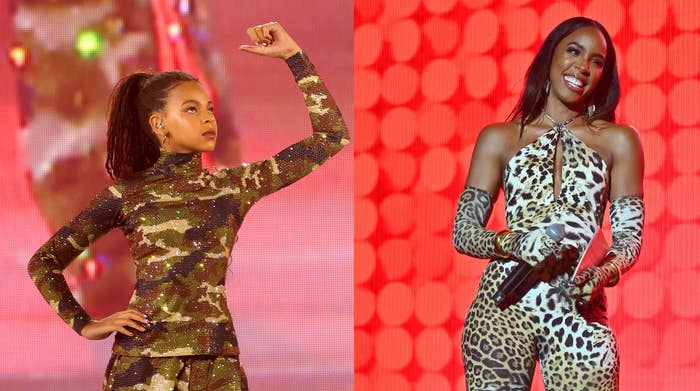 Kelly Rowland is praising Blue Ivy's work ethic after the 11-year-old has been showcasing her talent alongside Beyoncé on her Renaissance World Tour.
In a recent interview with E! News, Rowland credited fellow Destiny's Child member Beyoncé, as well as Jay-Z, with instilling discipline in their young daughter.
"I'm very proud," Rowland shared. "She works very freaking hard, period. But how could she not, you know? She sees her mother in action and she sees her father in action and how they apply everything, hard work to everything that they do."
Back in May, Blue made her first appearance on the Renaissance World Tour, taking the stage alongside her mom and a fleet of dancers during Bey's rendition of The Lion King: The Gift track, "My Power."
Blue's grandma and Beyoncé's mom, Tina Knowles-Lawson, subsequently hopped on Instagram to express how proud she was of her granddaughter.
"I am truly amazed by the courage that this brave, talented, beautiful 11 year old exhibited last night!" Lawson wrote "There were almost 70,000 people in that audience. She danced with professional dancers, grown folks, she did complicated choreography and moves that they rehearsed for months! She rehearsed and learned this in a little over a week. She was so smooth with it!"
Check out Lawson's tribute, as well as a clip of Blue Ivy's performance, in the Instagram post below.