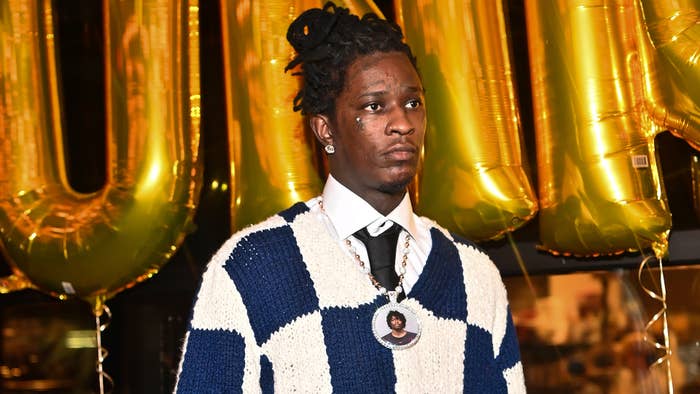 Wednesday, Aug. 16 is Young Thug's 32nd birthday, marking his second birthday spent behind bars as the YSL Rico case continues to drag on.
In May 2022, Thug and 27 others associated with YSL Records were charged in a 56 count RICO indicment. He spent in his 31st birthday behind bars last year, and it appears as though there's no immediate end in sight for the drawn-out case, which has been filled with drama and bizarre interruptions.
Last month, Thug was denied bond for a fourth time. Thug's attorney Brian Steele has argued that he shouldn't be considered a flight risk and has been experiencing health issues during his time behind bars. "Mr. Williams is not a risk to commit a crime and he's not a risk to flee the jurisdiction and that's what bond is about," said Steel, who described his client as "sleep-deprived."
The rapper, legal name Jeffrey Lamar Williams, was initially charged with one charge of conspiracy to violate Georgia's RICO Act and one charge of participating in criminal street activity, however he was later hit with eight further charges including possession of a firearm while committing a felony, possession of a machine gun, and three counts of violating the Georgia Controller Substances Act.
Jury selection in the case has been ongoing since January, which means it's the longest selection process in the history of Georgia. Approximately 1,000 potential jurors have been called since the process started earlier this year. One potential juror was sentenced to three days in jail after she was alleged caught filming the court proceedings.
There have been concerns regarding Thug's health during his time behind bars. In May, the Atlanta rapper was taken to a medical facility because he felt sick ahead of court proceedings. "I know he's had some difficulty of a similar sort at the Cobb County jail a few months ago, and so I'm obviously concerned about his well-being," said attorney Keith Adams. "My understanding is when he went to go be seen by a doctor, he was OK, he was alert. I don't have any reason to believe he is in any serious condition. He just wasn't feeling well."
Even though he's currently incarcerated, Thug dropped his album Business is Business in May. The star-studded record, which features appearances from the likes of Drake and Future, debuted at No. 2 on the Billboard 200 with 88,000 album-equivalent units in its first week.
He's received widespread support from the hip-hop community as the trial has continued. Perhaps the most notable of supporters is Drake, who recent showed his support by wearing a "STOP RICO" hoodie. "3 the guys out the you know," he wrote alongside the photo of him sporting the piece.
Gunna, meanwhile, hasn't fared quite as well. The YSL rapper was indicted alongside Thug last year, but he pleaded guilty to a sole racketeering conspiracy charge later that same year. He's insisted that he did not snitch on anyone, but his former collabroator Lil Baby has seemingly dissed him in a currently unreleased track. For what it's worth, Thug has yet to comment on Gunna taking an Alford Plea.