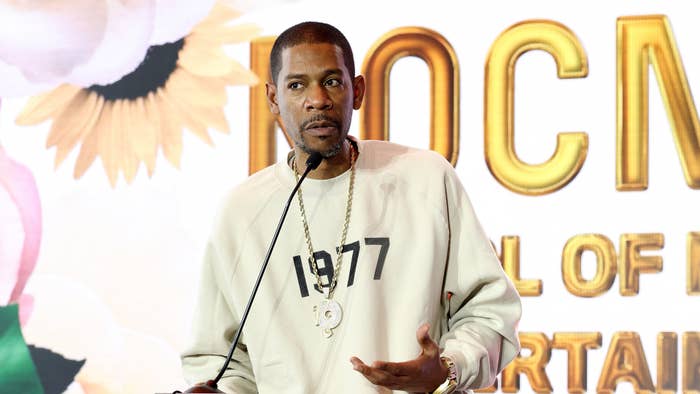 In a post shared on Instagram, prolific audio engineer and producer Young Guru voiced concern over a viral clip that shows an AI-powered voice filter that mimics Kendrick Lamar.
"This has dominated my Howard group chat for a couple days," said Guru alongside the clip, which shows a man creating a "fake" Kendrick track using the filter. "Ok I'm at the point where I can voice my concerns with our current state of AI. I have followed as many versions of what AI could do for some years now. I remember being at MIT and students showing me a project where they were actively feeding a computer 'All' the jazz records that ever existed. So that AI could analyze and create music in any style of any musician. I didn't think we would get here this fast with the voice."
Guru said that while AI technology is impressive, it raises many questions for artists from which the tech derives. "Of course my mind goes to the ethical and legal aspects of what can be done with programs like Tacotron 2. You add that to the power of ChatGPT and you realize we are in a very groundbreaking but dangerous moment," he added. "It's not the tech, it's the evil that men do with the tech. There are legal aspects because at this present moment you can't copyright a voice."
Guru also expressed fear over the technology, which he said allows artists to "create a song … in the voice of your favorite musician" among other nefarious uses. "The ability to create a Manchurian Candidate scares me. Think about that in every industry," he continued. "There are still states that don't even have a law against revenge porn. I'm sorry to go there but imagine the repercussion on our kids when 5 years from now some high school kid gets mad at his ex girlfriend and creates a whole 'deep fake' that sounds and looks real. Imagine the political landscape where we can't believe anything we hear because someone will claim they didn't say it."
Guru concluded the post by suggesting worse utilizations of AI technology are on the horizon. "I don't even want to continue giving examples for fear that someone will go out and do it. The law has to change to protect everyone not just Public Figures," he wrote. "And the super scary part is that we are just getting started, we feed the beast constantly everyday with more and more content to be studied. Maybe the Luddites had a point. The book by Gavin Mueller Breaking Things At Work starts to take on a way more urgent role!!"
AI technology has already become one of the biggest talking points of 2023, and it remains unclear how it will impact the music industry. Just last month, a website offered users the opportunity to generate their very own Drake songs based on a simple prompt.