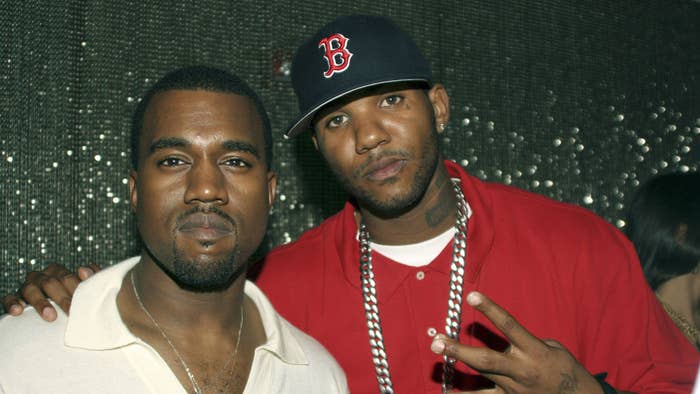 During an appearance on Amazon's Bars and Nuggets podcast, The Game suggested that he regrets saying Kanye West did more for his career in two weeks than Dr. Dre ever did.
"So basically I was hollering at N.O.R.E. and them a little inebriated," he shared in the interview, as seen below, at the 19-minute point. "And I said some things that I meant. I'm not gon' take it back—I ain't no sucker. But having Dre do anything for your project, anything in your career, touch any part of anything you're doing in life is such a blessing that I shall not ever shit on that again."
The Game is referring to comments he made on an episode of Drink Champs last year, right around the time he was promoting his collaboration with Ye, "Eazy." The rapper boldly claimed Ye was doing more for him than Dre ever did. "It's crazy that Ye did more for me in the last two weeks, than Dre did for me my whole career," he shared.
With a clearer head, the "Hate It Or Love It" rapper sets the record straight. "I haven't talked to Dre since. And it don't really matter if we talk again in life," he shared. "Like, I'm a standup Compton, L.A. n***a and it is what it is. I said what I said, I'm not going back on it. It's just that... I should have actually gave him more grace for what he did do and that was actually mentoring me and doing things that nobody else could have done for me in my career."
He clarified that what he was doing with Ye was "life-changing" for him at that moment. "I based it on Dre's lack thereof because I took the business part personal and I should have left it business," he continued. "But Dre is Dre, bro. We all know what Dr. Dre do."
Dre was fundamental in helping launch The Game's career, serving as a producer and executive producer on his major-label debut, The Documentary. He stopped working with his former mentor shortly after and addressed their relationship on his 2006 album, Doctor's Advocate. 50 Cent, who Game is famously not on good terms with, was confused by the moment in a reaction shared on social media. "Hun, what happen here?" he asked.
Game fired back shortly after with a tweet. "Last time you did this with me, G-Unit clothing got put in a casket wit the entire group & you went into television," he wrote. "I like Power n shit….. leave it alone. I'm back outside."