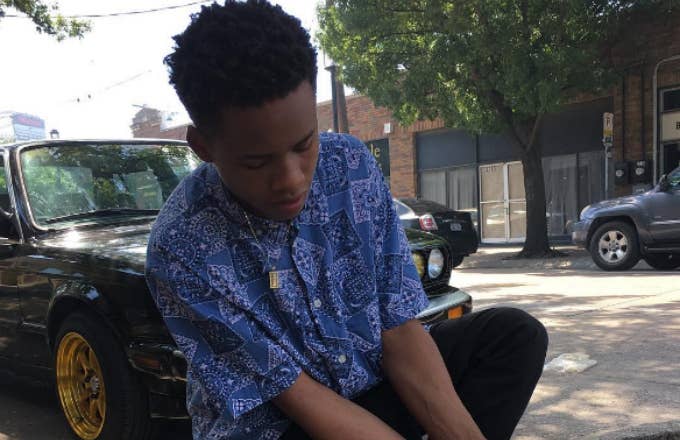 Back in July, Tay-K was sentenced to 55 years in prison for his role in a 2016 murder. He's now given his first public statement since the sentencing.
The 19-year-old rapper, who gained infamy for releasing his breakout song "The Race" while on the run, put his management team, his record label, and the media on blast for not allowing him to "speak out" on Twitter.
"I wanna apologize to all my fans and supporters for letting my management and label convince me that it wouldn't be a good decision to speak out against the way the media makes me look and the complete lies they spread," Tay-K tweeted. "But I'm gonna make sure the truth about my life and my character gets out with or without management or a label. And whoever don't like it fuck you."
Tay-K indicated that he will be more vocal on social media going forward, although he has not tweeted since. He added that he believes he's been inaccurately portrayed by media, and said that it has directly impacted his wellbeing. "The way the media inaccurately portrays me has affected my life directly," he wrote. "So instead of waiting on my 'team' to get the bright idea to speak up on my behalf, things will be done differently."
Despite his criticisms of the media and his team, he admitted that he's made some mistakes himself. "Of course I'm not perfect or nothing, but I'm most definitely not this monster that they try to portray me as," he added, maintaining his innocence. "With that being said, I also apologize for the way I may have presented myself, I was young and inconsiderate."
In July, Tay-K was sentenced to 55 years for the murder of 21-year-old Ethan Walker during a home invasion robbery in Mansfield, Texas. The rapper, real name Taymore McIntyre, also received a 30-year prison sentence for aggravated robbery and two 13-year sentences for additional counts of aggravated robbery. The sentences will be served concurrently. Additionally, he was indicted for a second murder charge in November.
Check out what Tay-K had to say above.