Video Shows Styles P Ripping Into Police as They Arrest Woman Outside His Juice Bar: 'A Whole B*tch'
The LOX rapper Styles P was filmed intervening with a forceful arrest of an unarmed Black woman by police outside of his juice bar in Yonkers.
Getty
Image via Getty/Erika Goldring/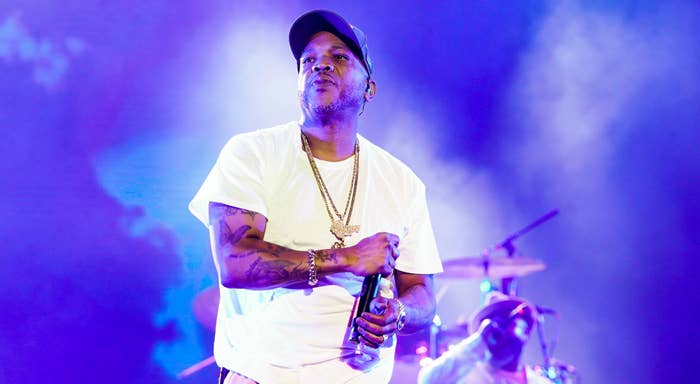 The LOX rapper Styles P was filmed intervening in a forceful arrest of an unarmed Black woman outside his Yonkers juice bar.
In a video originally shared on TikTok, Styles P came to the assistance of a woman being pinned to the ground by police officers outside Juices for Life. The pair of cops in the clip appeared to slam her down and roughly handle her as they attempted to use handcuffs, telling her repeatedly that she was under arrest. It's not clear what prompted them to take action.
The woman who recorded the clip was joined by Styles, who called one of the cops "a whole bitch" during the incident. He told the woman on the ground to "loosen up," presumably to prevent further injury or possible charges, then called one officer "a fucking hoe" for how they handled the woman.
"I'mma back up. Don't touch me," he said as one of the officers approached him. "You slammed a girl! For no reason." Styles also highlighted that one of the officers appeared to have his hand on his gun as he apprehended her. 
Not long after the clip went viral, Styles P shared a video addressing the situation on Instagram. 
"Gonna try to make this as short and sweet and to the point as I possibly can," the 47-year-old said. "On behalf of all young Black people who seen the video, I was wrong because you gotta be careful of what you do and how you speak out here because we're all at danger. But we also kinda gotta step up when we see shit being done wrong. I definitely should've delegated it better."
He went on to explain that he typically likes to remain calm in these types of situations, but he especially doesn't like seeing police be violent with women. "I don't hate cops, I hate the mistreatment of poor people," he continued. "I hate mistreatment of poor Black people. I hate the mistreatment of poor Spanish people. Even poor white people in the hood, I hate the fact that it's easy to throw cops in the neighborhood that'll get a benefit, a salary with a bunch of people that they have no idea how it works."
He stressed that he doesn't want to see the two police officers in the clip lose their jobs, but he does want to see them handle these situations better. "I actually don't even blame them so much, I blame the whole system," he said, adding that in that moment he wanted to fight the cop, even though it'd be "one of the dumbest things" he could've done. 
See what Styles P had to say about the situation above.