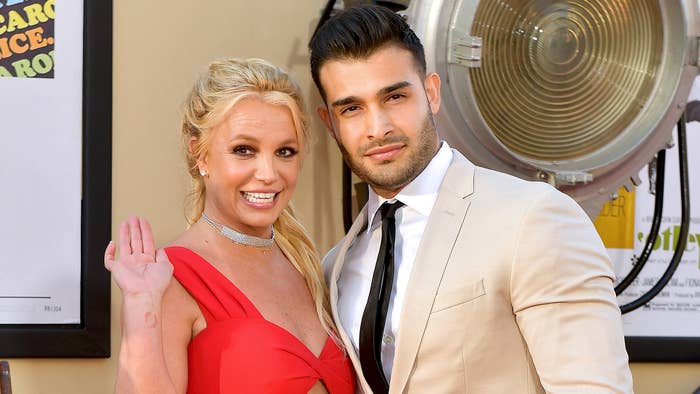 Following reports that Britney Spears' friends and family have staged an intervention, her husband Sam Asghari has released a statement denying it.
"An intervention did not occur," Asghari said in a statement shared with Access Hollywood's Mario Lopez. "My wife is in full control of her life and will continue to make all decisions involving her care regardless of circumstances. Speculation on her health is inappropriate and should end immediately."  
Asghari's statement on Friday comes not long after sources told People and TMZ that they are growing concerned about the pop star's recent behavior. "Britney has been acting increasingly erratically and those around her have grown more concerned," a source said. "She is often up all night, sleeps during [the] day and has a lot of anger." Another source told the publication that it's been "very difficult" to encourage her to get any help, and the situation has been "absolutely chaotic."
The insider said that Asghari, who married Spears last year after six years of dating, "is being as supportive as possible" throughout the situation. "Everyone had hoped Britney could be convinced to seek treatment before things got any worse but they knew it wouldn't be easy," the source said. "She's been going through a lot and has been increasingly combative."
While Asghari has denied such an intervention, sources said that it was supposed to include Asghari, her manager, friends, and medical professionals. One source suggested her recent behavior recalled her infamous 2008 public breakdown, and she isn't taking her medication. "She has unbelievable untreated trauma that with the help of therapists and specialists could put her in a much better place. An intervention is essential to make that happen," one of the sources told TMZ.