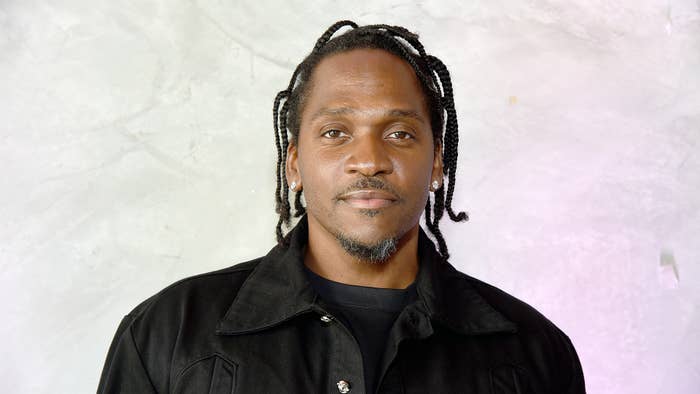 In an extensive new interview reflecting on his career so far, Pusha-T has said that he's really not a fan of Clipse's third and final album, Til the Casket Drops.
Speaking with Tidal, the rapper offered up his feelings on his major projects from Clipse's debut Lord Willin', to his Kanye-produced solo album Daytona. When it came to Clipse's Til the Casket Drops, the It's Almost Dry rapper did not mince his words.
"I hate it. I hate it. And when a song comes on, like 'I'm Good,' man, this was a little bit of a bop. Hate it," he said. "Soon as I find myself bopping a little bit too much — ah, damn. And there's another thing. Bro, Malice is telling you the whole time, he's leaving. You hear it the whole way through the album. ... The transition is happening, the album's out, I'm touring and he comes and brings me a book and says, 'Man, you probably should go read my book. But I think you should just go solo because I don't want to do this.'" 
Clipse announced their split the year after Til the Casket Drops, which led to Pusha and Malice pursuing their respective solo careers. While he was particularly harsh on the record, he said there is one thing he still appreciates about it. "Only thing I love about it is the artwork, and that's because KAWS did it," he added. "That's it. '09. Shout out KAWS."
Elsewhere in the interview, Pusha touched upon the infamous "Wyoming sessions," a series of seven-track albums produced by Kanye West in 2018. Pusha's Daytona was the first of the albums to be released, and initially Push wasn't too sure about that. 
"I was actually mad I was going first," he said. "I was like, 'Why I got to go first? Why?!'"
While he didn't explain why he was "mad" about the release schedule, he said that he was very thankful for the Grammy nomination for Best Rap Album in 2019 during a very competitive year. 
"The Grammy nomination was big," he continued. "The year 2018 was super strong to me, because I felt like the Grammys even got the rap nominations and the rap winner right. Cardi deserved that. But I felt like when you just look at the lineup, you had Cardi B, you had Travis Scott, you had Mac Miller, you had Nipsey's Victory Lap and you had Daytona. Anybody could have won and I couldn't have argued. I actually was going to the gym with Cardi's joint in my headphones, like, 'Oh yeah, she killed this joint.'" 
Pusha also touched on his Sean Combs-produced record King Push – Darkest Before Dawn: The Prelude, and reflected on how he helped inspire the record. "I really wasn't finding inspiration in any producer, whether it be Pharrell, whether it was Kanye. I went and saw Puff and I just sat down with him, and everything energy-wise I was trying to get out of the music, he was in tune," he explained. "He was very maestro-y, you know what I'm saying? Puff was really inspirational. We did this together. People say things like 'Oh, Puff ain't no producer,' blah, blah, blah. And I'm like, 'You've never been in the studio with him. You don't get it.' This doesn't happen without him. It was really eye-opening."
Lord Willin', Clipse's debut, was entirely produced by the Neptunes when the duo were in high demand. In fact, Pusha said that Babyface wanted to work with Neptunes so much that he offered to pay for the recording costs of Lord Willin'. 
"Man, I created most of Lord Willin' at Babyface's house," he explained. "We were creating Lord Willin' and Babyface wanted to work with the Neptunes. And they told him, no, they couldn't work because they were finishing our album. And he was like, 'No, no, no, no, no. I'm going to pay [recording costs] for the [Clipse] album. So I'll pay for the Clipse to come. I'm going to fly you guys out here.' ... And it was Babyface. He got whatever type of compound he got. But Babyface walked around barefoot the whole time. I'm doing my street raps, he's somewhere barefoot, beads and a vest with a guitar."
Read the whole interview here.