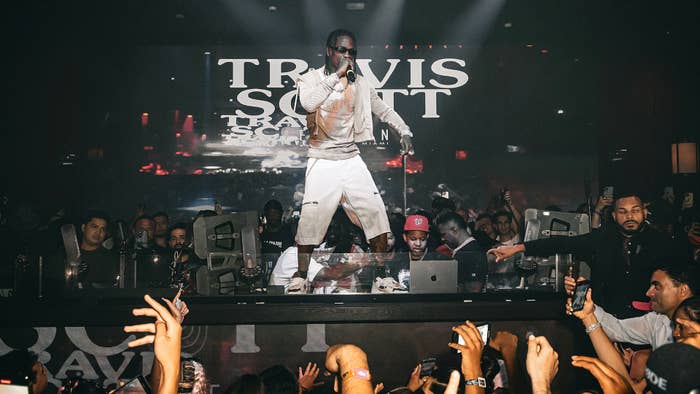 Days after he sat for a civil deposition, Travis Scott's lawyers alleged that his cellphone containing any communication related to the Astroworld Festival in 2021 had been lost at the bottom of the ocean.
Rolling Stone reports that plaintiffs in several lawsuits against Scott in the case of the Astroworld Festival crowd crush—which left 10 people dead—filed an emergency motion ahead of his recent deposition seeking access to the rapper's phone records pertaining to the festival. They claimed his legal team has failed to provide such documents even though a court order requires it. A court transcript shows that one of Scott's attorneys said the phone containing messages about the festival and the disaster fell off a boat.
Attorney Steve Brody of O'Melveny & Myers, who is representing Scott, said he received a draft of the motion before it was filed but was not given enough time to respond. In court, Brody said that Scott's phone "fell off a boat in January of 2022 and landed somewhere at the bottom of the Gulf of Mexico and is not able to be retrieved."
Plaintiffs with the legal firms Arnold and Itkin, Roberts Markland, and Lyons and Simmons filed an "emergency motion to compel production" of any documents, including electronic devices such as phones. Lawyers from the firms additionally claimed that Scott, his company XX Global Inc., and Cactus Jack general manager David Stromberg objected to requests to provide said records.
"Mr. Stromberg's testimony and colloquy of counsel on the record suggests that not a single message, WeChat conversation, photo, video or other message from Mr. Stromberg, Mr. Scott or anyone on his team's phone has been searched for and reviewed for production," wrote the lawyers in the emergency motion.
Scott's attorneys argued the request is "seeking confidential and/or sensitive information."
Judge Kristen Hawkins questioned the Utopia creator's legal team over how his phone was handled, according to a court transcript. She suggested they failed to show any action to "secure and download anything from his phone immediately following an event in which 10 people died." Hawkins added that there doesn't appear to be any effort to recover text messages "from alternate sources," including his phone carrier.
Brody, however, said that they attempted to recover the messages from the lost iPhone directly from Apple and his cell phone carrier. Scott apparently didn't back up his phone to iCloud due to "significant hacking concerns," which means anything on the phone will not be retrievable. Any messages between Scott and Stromberg, though, will be, since Stromberg has since provided plaintiffs access to his phone.
"Travis Scott and his team have nothing to hide and are cooperating with all ongoing civil legal proceedings," said Ted Anastasiou, a representative for Scott, in a statement addressing the failure to produce any documents. "His actions during and after the festival demonstrate that he has done nothing wrong, as does the fact that he and his team were cleared following the investigation by the Houston Police Department."