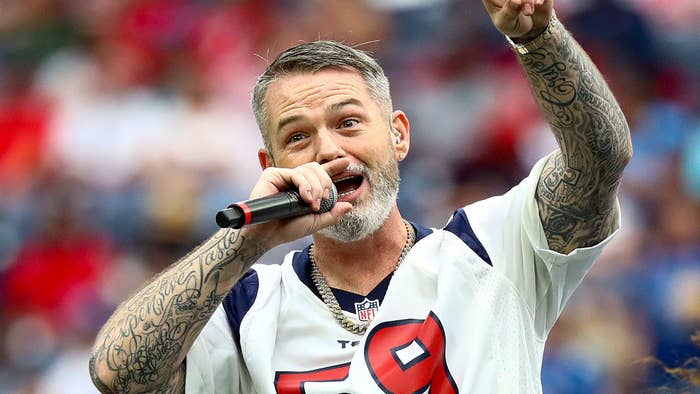 Texas hip-hop icon Paul Wall has people talking thanks to the color of his hair.
In a post shared on TikTok, the rapper marked his appreciation for getting the opportunity to perform at halftime during a recent Houston Texans game. In the clip's caption, Wall addressed his gray hair and suggested he looks older than he is. "1st off, why my face look like the old man filter lol," he wrote.
After the clip circulated online, fans expressed disbelief at Wall's new look, especially since he's typically associated with a shaved head.
Wall eventually addressed the reaction to his haircut, tweeting, "Since my hair cut is trending, let me shout out to my barber White Mike at #BadBoyzBarbershop and also shout out to my momma for the good hair genes."
In an interview with TMZ, Wall further explained his decision to embrace his silver fox look. "My grandfather had a full head of gray hair when he was 18 years old," he shared. "So, growing up I always knew it was coming. It started off with a little here and there on my chin. ... But honestly, I always had insecurities and hangups about my gray hair as a younger person. Now, I don't mean to be ageist or any of that, but once I hit 40 it just felt like being gray was more age-appropriate. So as soon as I hit 40, I swear all my hangups, insecurities, they went out the window."
When he turned 40, Wall decided to let his gray hairs show and admits he's "proud" of how he looks now.
During the chat, he also spoke about Drake giving him a shout-out at one of his Houston shows on the It's All a Blur Tour. "Feel great getting that shout-out from Drizzy Drake," he said. "He the king of this right now you know what I'm saying. He definitely one of the GOATs, a lot of people say he is the GOAT. I'm a huge fan of Drake, man. He always shows love to artists that came before him, he always shows love to different, you know, geographical cultures around the country. He always shows love to Texas."