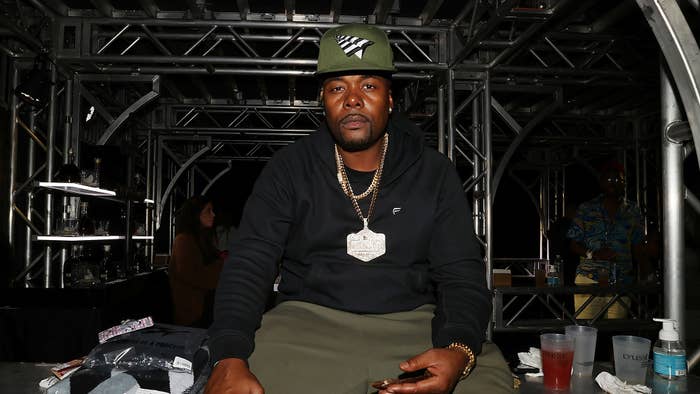 During an appearance on Drink Champs, Memphis Bleek recalled the time Jay-Z brought out Michael Jackson as a special guest at 2001 Summer Jam and was advised not to look in the popstar's eyes.
In a preview of the episode shared by one of the podcast's hosts N.O.R.E. on Twitter (formerly X), he said it was "ill" when MJ was brought out but the situation came with some bizarre requirements. "Rest in peace to the GOAT of the GOATs... Mike came through, right—listen, if you wasn't with Hov you had to turn around and face the wall," he said. "His security guards came in before he came in they like this: 'Everybody who don't got the Jay-Z pass.' Like, I'm with the family. You had to have that pass."
He said that MJ's security team made everyone face the wall to avoid eye contact. "G, they was making n****s turn up face the wall like it was the pat-down on the block. Like, everybody because Mike didn't want eye-to-eye contact. Nobody [could] look him in his eyes," he shared. "Me, I gotta see Mike. So I'm looking at everybody in the hallway facing the wall like, 'These n****s is bugging.'"
Funnily enough, this isn't the first time that someone recounted a story about MJ's team getting people to face the wall. On the All the Smoke podcast earlier this year, DJ Quik said that when he ran into Jackson at his story, his team "warned everybody" that the singer didn't want to be seen.
Initially, he thought it was a joke, but they asked him and those with him in the studio to "just turn around and face the wall" as Jackson made his way through the studio. "This shit seem weird as shit, like some police shit; 'hands up on the wall.' So the door opens, then you just hear some penny loafers running through the little thing," Quik recalled. "Turn around and you can see him, his little hair and shit. That motherfucker went in the door and closed it. They were like 'Alright, y'all cool, y'all can turn around."
Elsewhere on the episode of Drink Champs, Memphis Bleek revealed how Jay-Z responded to his request for Beyoncé tickets. "Yo big homie, I need some tickets for the show, it's wifey B-day," Bleek recalled saying to Hov, who responded, "Ah nah, n***as tryna turn me into the ticket guy now?"
Check out the full episode of the podcast on Spotify here.