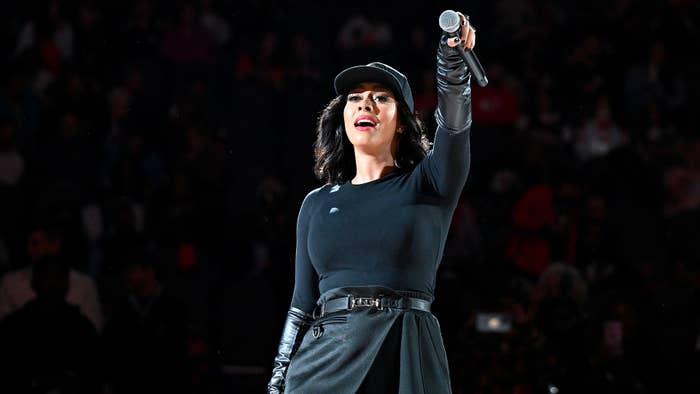 In a tweet, Keri Hilson questioned why she finds Tyler, the Creator "so fine" and publicly thirsted over the rapper, who is eight years her junior.
"Why is Tyler The Creator so fine to me?" she tweeted this week. "I know, I know, lol. He's just so 😍." This is the first time Hilson has shared that she has something of a crush on Tyler, who typically keeps his love life a secret from fans even if he felt the need to tell fans he "suck[s] toes" in a tweet shared earlier this year.

Tyler, 32, has yet to respond to Hilson, 40, but he is currently busy gearing up for the return of his Camp Flog Gnaw festival in November. As he noted, tickets for the festival, which features Tyler among its headliners, sold out in less than an hour.
Last month, Tyler also jokingly addressed a viral photo of him with Sexy Redd that showed him with a larger posterior than fans expected. "Been hiding it but cat is out the bag," he wrote, referring to the photo that particularly emphasized his glutes. "i got a bbl this is not photoshop." Under Sexy Red's post sharing the same photo, he added, "The BBL really lifted my spirits."
Hilson, meanwhile, has garnered controversy in the last few years over her behavior on social media. In 2021, for instance, she expressed "freedom of speech" concerns after Donald Trump was banned from X, which was known at the time under the far superior name Twitter.
"A democracy must include freedom of speech," Hilson wrote on her Instagram Stories in a post that was widely criticized by fans. "Imagine other leaders or popular figures not being able to voice their opinion if it opposes the majority of world leaders...Our freedom of speech is being taken from us." She also shared conspiracy theories linking the spread of COVID-19 in 2020 to 5G.