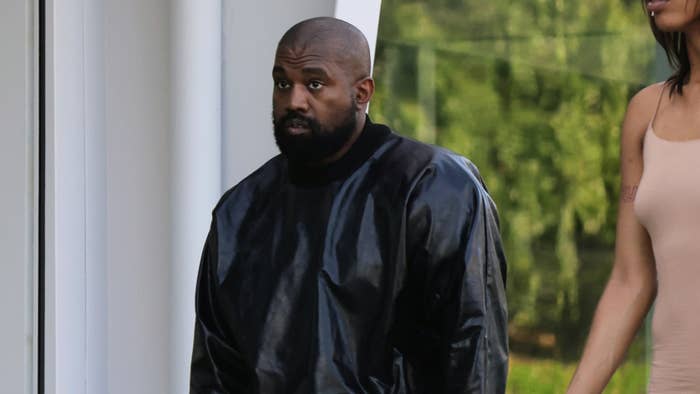 Following a tumultuous 2022 that saw him lose the majority of his brand partnerships, Kanye West is facing a lawsuit for the alleged assault of a photographer.
Per TMZ, the disgraced multi-hyphenate was recorded getting into a heated altercation with various paparazzi who were supposedly tailing him after he picked up North West from a basketball game back in January. In a lawsuit, photographer Nichol Lechmanik accused Ye of confronting the paparazzo in an aggressive manner. She is suing him for assault, battery, and negligence. Lechmanik is also asking for an injunction that would block Kanye from touching, annoying, and threatening her and any other photographer, for that matter.
She claimed that she believed he might have a weapon on him during the encounter because he was going through his pockets as he approached her. When he did approach her, the former Adidas collaborator yelled at her as she sat in her car. "You all ain't gonna run up on me like that," he said. "If I say stop, stop with your cameras." In a video of the incident, he is seen taking her phone and throwing it into the street. Lechmanik's lawsuit claims that the phone landed on the road in oncoming traffic.
The video was recorded by Lechmanik's business partner. They filed a police report about the incident, which prompted a battery investigation in which no charges were filed. Lechmanik said she suffered lost earnings because of the incident, which left her traumatized and humiliated. Following the encounter with her, Kanye was spotted going to authorities when he was being approached by photographers.
Last year, Kanye faced widespread condemnation after he embraced anti-Semitic and white supremacist rhetoric. In an appearance on Info Wars that even made controversial host Alex Jones blush, he praised Adolf Hitler. There's since been a long series of fallouts with former collaborators, including various companies such as Gap and Adidas. In more recent months, his ex-wife Kim Kardashian has spoken openly about his "insane narrative[s]" and "damaging" behavior.