Kanye West Criticized for Hitler-Praising Alex Jones Interview, Gets Suspended From Twitter (UPDATE)
Ye has faced intense scrutiny for his Hitler-praising interview with Alex Jones, and has since been banned from Twitter for posting a swastika.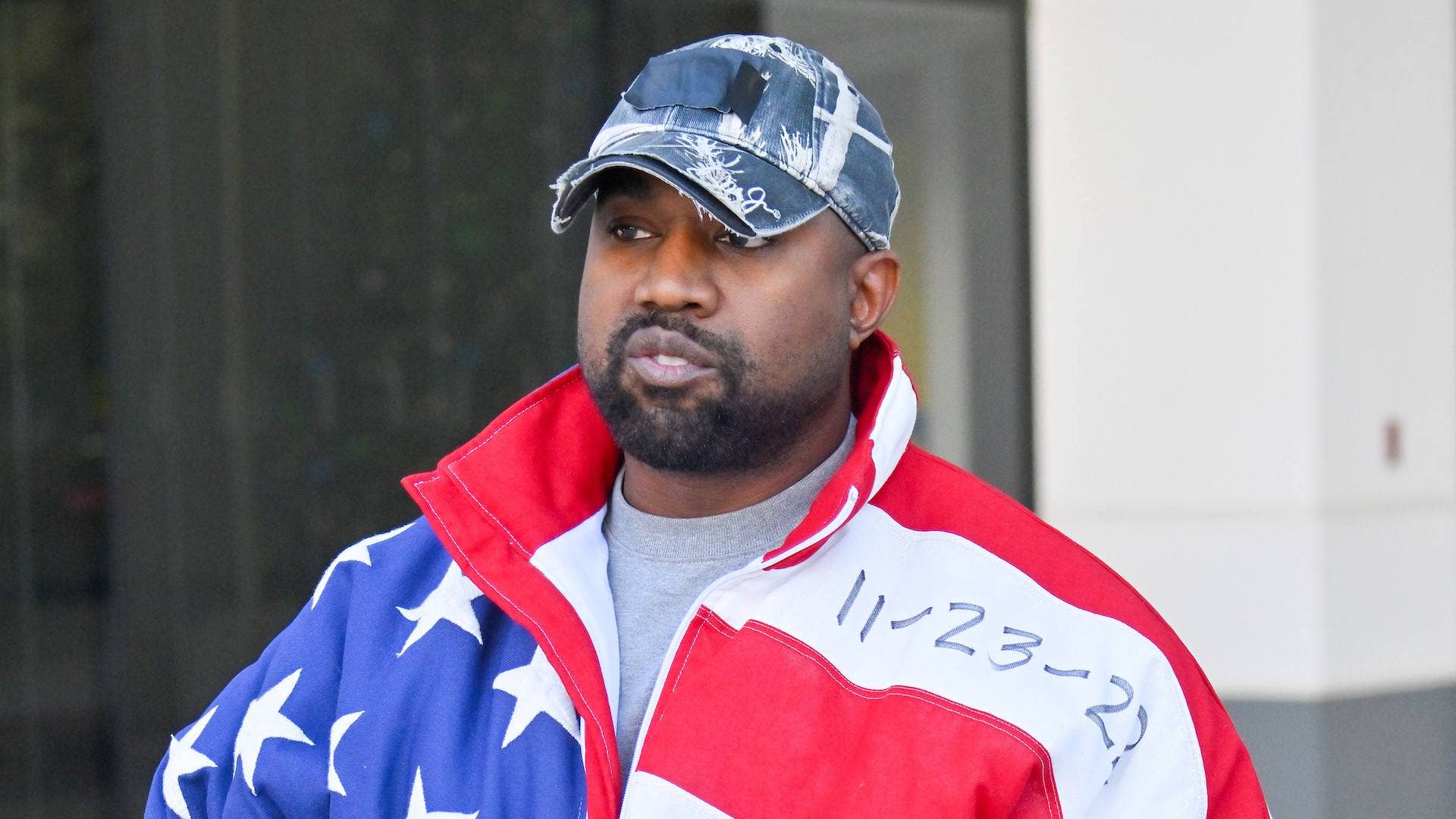 Getty
LOS ANGELES, CA - NOVEMBER 27: Kanye West is seen on November 27, 2022 in Los Angeles, California (Photo by MEGA/GC Images)
UPDATED 12/2, 10:50 a.m. ET: Ye has faced intense scrutiny for his Hitler-praising interview with Alex Jones, and has since been banned from Twitter for posting a swastika inside the Star of David.
After sharing a number of tweets following the controversial and deeply disturbing interview, Ye has been indefinitely suspended from Twitter. Alongside the image of a swastika inside the Star of David, Ye offered praise for Balenciaga amid allegations the luxury fashion brand condoned child exploitation. He also shared a photo of Twitter's new owner Elon Musk, who was being hosed down on a yacht. "This is fine," said Musk in response to the photo. "This is not," he replied to the swastika post.
"I tried my best," wrote Elon Musk in reply to a tweet that asked him to "fix" Kanye. "Despite that, he again violated our rule against incitement to violence. Account will be suspended."
In a follow-up tweet replying to Megaupload founder Kim Dotcom, who criticized Ye for sharing a less than flattering photo of the Tesla CEO, he added, "Just clarifying that his account is being suspended for incitement to violence, not an unflattering pic of me being hosed by Ari. Frankly, I found those pics to be helpful motivation to lose weight!"
Many have since condemned Ye for his continued embrace of hateful rhetoric. The Republican Jewish Coalition shared a statement on the Alex Jones interview on Thursday.
"Today's InfoWars show ft Alex Jones, Nick Fuentes & Kanye West - a disgusting triumvirate of conspiracy theorists, Holocaust deniers & antisemites - was a horrific cesspool of dangerous, bigoted Jew hatred," read the statement. "We vehemently condemn those comments and call on all political leaders to reject these messengers of hate and relegate them to the dustbin of history where they belong." The coalition described Ye as a "vile, repellent bigot." 
See original story below.
In an interview with conspiracy theorist Alex Jones on InfoWars, the artist formerly known as Kanye West said that he sees "good things about Hitler."
In a clip from the show, Jones suggested that Ye has been "demonized" in the press for his recent anti-Semitic remarks and that he doesn't deserve to be compared to Adolf Hitler or the Nazis. With a balaclava completely covering his face, Ye suggested that he sees the good in everyone, which "especially" includes Hitler.
"Well, I see good things about Hitler, also," said Ye. "I love everyone, and Jewish people are not gonna tell me… 'You can love us, and you can love what you're doing to you with the contracts, and you can love what we're pushing with the pornography.' But this guy that invented highways, invented the very microphone that I use as a musician—You can't say out loud that this person ever did anything good, and I'm done with that. I'm done with the classifications, every human being has something of value that they brought to the table. Especially Hitler!"
In another clip, he doubled down on his stance and outright said, "I like Hitler."
Ye also praised Nazis and said they "did good things too." He continued, "We've got to stop dissing the Nazis all the time."
Following his appearance on Alex Jones' InfoWars, Ye took to Twitter to write that he loves "the first amendment."
Earlier this year, podcast host and former TMZ employee Van Lathan Jr. said that Ye professed his "love" for Hitler during his infamous 2018 appearance in which he suggested slavery was "a choice." Not long after, a report detailed that Ye had an alleged "obsession" with Hitler, and even planned to name one of his albums after the Austrian-born German dictator. Documents reviewed by NBC News last month showed that he paid a settlement to a former employee who accused him of using bigoted speech in the workplace.
Hitler was the chief perpetrator of the Holocaust, which saw the genocide of approximately six million Jews and millions of other targeted populations. He also led the systematic mass-killings of gay people, Black people, disabled people, and those who held communist views, among others. While Ye has been known to gravitate to controversial political figures in the past in the past, Donald Trump chief among them, even Alex Jones appeared taken aback by his praise of Hitler.