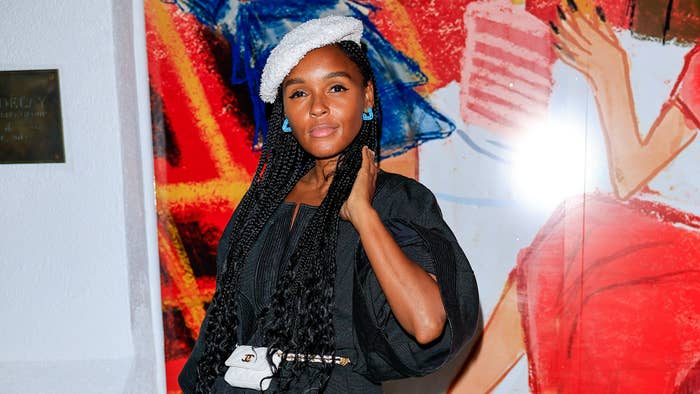 Janelle Monáe has been embracing nudity and championing pleasure, and she spoke about it in an extensive Rolling Stone cover story.
"I'm much happier when my titties are out and I can run around free," Monáe told writer Mankaprr Conteh ahead of her fourth album The Age of Pleasure. The 37-year-old multi-hyphenate reminded readers she defines herself as a "free-ass motherfucker," and goes by either she/her or they/them pronouns.
Monáe shared the slightly NSFW video for her track "Lipstick Lover" this month, in which she appears topless. Following the release, she let her fans know her policy is "titties out for the next 15 years." She also went viral when a video showed her flashing her breasts during an event in promotion of The Age of Pleasure, which drops on June 9, over five years after the Grammy Album of the Year–nominated Dirty Computer.
Reflecting on the days when they were known for wearing sharp, monochrome suits, the Antebellum star said, "Even when I was really, really wearing only suits, I was either in a suit or you would find me at my own parties naked. It was no in-between."
The Age of Pleasure—and the age of COVID—helped them find the in-between—and a new north star. "I think being an artist gets lonely," Janelle confided. "Most people don't understand what's going on in my brain. Community has been so helpful to me; it's beautiful that I have a title called The Age of Pleasure because it actually re-centers me. It's not about an album anymore. I've changed my whole fucking lifestyle."
Monáe opened up about her decision to start enjoying cannabis during this time. "I grew up fearful of marijuana because I had parents who were addicts," she explained, noting her father suffered from a crack-cocaine addiction. "They would always say, 'Weed is the gateway drug to being a crackhead,' and I grew up with that in my mind and heart."
It was only when the pandemic hit and closed everything down that she decided to "test out weed."
Monáe went on to advocate for better mental health care for all Americans. "Not a lot of people have the luxury of saying or doing what it is I'm doing. I think that therapy, life coaching included, should be free for every American," she said. "There's so many people walking around wounded emotionally. We would be better as a country, as a planet, if everybody had the access."
Rian Johnson, who directed the Moonlight actress in the Knives Out sequel Glass Onion, also told Rolling Stone he's informed the futuristic creator he needs "a Janelle Monáe-written and -directed sci-fi movie in my life, and I need it soon."
Read the full cover story here.