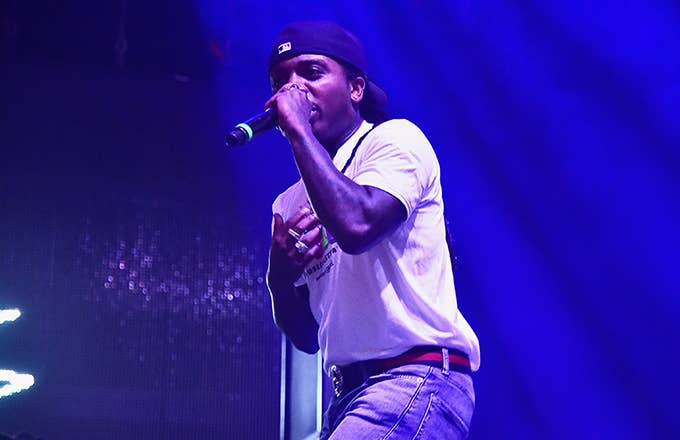 Tuesday evening, Jacquees revealed that his remix of Ella Mai's "Trip" had been removed from the internet, although he's since said there are no hard feelings.
Undoubtedly a case of a label acting in their best interests, the situation escalated when T-Pain chimed in. A fan asked why T-Pain's remix of Ella's breakthrough hit "Boo'd Up" didn't receive the same treatment, to which he responded, "Everybody be asking me why I don't put my tmixes and shit on Spotify tidal and iTunes and shit. This is why." He later added that he thinks Jacquees "tried to make money from it."
"N***a no I didn't," Jacquees responded in a tweet. T-Pain answered, saying he thought he saw the remix on Spotify, before laughing at fans asking Ella's team to sue him for remixing her music, too. It's clear that T doesn't want any issue with Jacquees, though.
Why Jacquees' remix was targeted and T-Pain's wasn't remains to be seen. But Mustard released a statement on Twitter addressing the matter, writing, "when you monetize content you don't own you are stealing and no one steals from 10 Summers."
Jacquees' rep sent Billboard a statement to clarify that there's no bad feelings between the artists, explaining, "For the new people who are just catching up to who Jacquees is as an artist, this has become very controversial for no reason. We love Ella and are cool with her team as well. He has been releasing not only Quemix songs but entire projects with others artists' songs ranging back to 2013. This was an act of genuine support and should not turn into negativity for either of the artists or from their supports."
The statement the rep shares makes reference to Jacquees' hope that him and Ella Mai will collaborate on an original track somewhere dcown the line. "There is still hope for the song as an official remix," the representative for Jacquees adds.