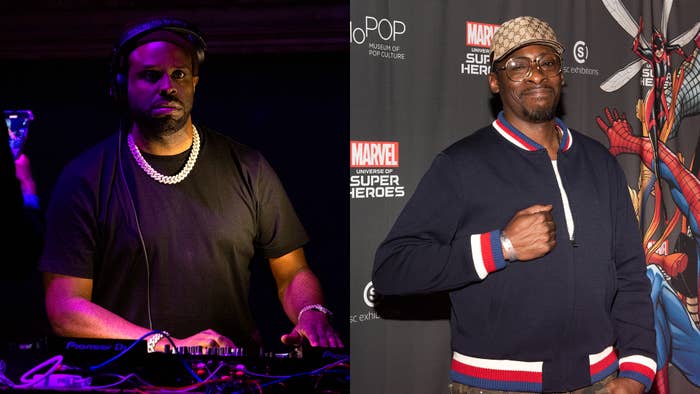 Funkmaster Flex has blasted Pete Rock after the producer suggested the DJ no longer plays "real artist[s]" on the radio.
The beef between the two started after Conway the Machine hosted an Instagram Live in which he called out Flex, who he referred to as an out-of-touch "gatekeeper" who doesn't give his music airtime. Flex didn't take kindly to the criticism, and now he's also spoken out against Rock for taking Conway's side. 
"You don't play real artist no more," wrote Pete Rock in a since-deleted comment on Flex's post of Conway's rant. "You talk shit like you better than everybody and I believe all threats with real talent in music were removed by plan out the way for that new shit to happen. You a NY n***a treating the other ny artist who put in work like our career is over. You stop playing Wu Tang You play no Griselda nothing, stopped playing a lotta artist then you judge mafuggas and make fun of that fact you control what you want when you on air."
Rock, who has produced for Conway, went on to accuse Flex of looking down on artists. "So much good music out here to be ignored and as a black dude treating other black talented people like they beneath you," he continued. "You don't make beats or rap but you shitted on artist cuz you could and you stopped supporting real hip hop music to cater to whoever got you in their pocket. That's sucka DJ behavior."
Rock also mentioned his own DJ career on Hot 97 and WBLS, and said he would play "everybody's shit" during his time there. 
Flex couldn't let Rock have the last word, and chose to share an extensive post criticizing Pete. "I have watch this guy give his 'opinion' of me for about 2 years! He's one of my favorite DJs, producers, and MC's!!!" wrote Flex in response, tagging Rock on the post. "I hope that some of our mutual friends will understand that goofy has been begging for smoke!"
Flex shared a screenshot of his response in the post, which went further into how he feels about Rock. "Coming from the guy who shitted on drill!" wrote Flex. "They fired u from WBLS and HOT97 in that order because u lost touch with the music, streets and club! Please remember I'm a fan of your music, love every song u ever made, loves listening to u on the radio and love your bars… @realpeterock u sit in your basement high as hell, out of touch, mad at the new generation… Pal… your career was over the day u stop realizing 'HIP HOP' can't be dictated."
Flex later accused Rock of wishing he'd accept money in exchange for plays. "You wish I took money," he wrote. "Make u feel better about your wack songs u made in the last 5 years that I didn't play! (Be clear everything else u ever produced is amazing). I'm funny style to u? Or u mad that we the same age and your career went a little let's say 'different' than mine! Your right I laugh like it's a joke… A lot of people like you haven't come to terms that there is a new style of artist controlling the craft!"
Check out what Flex had to say above.