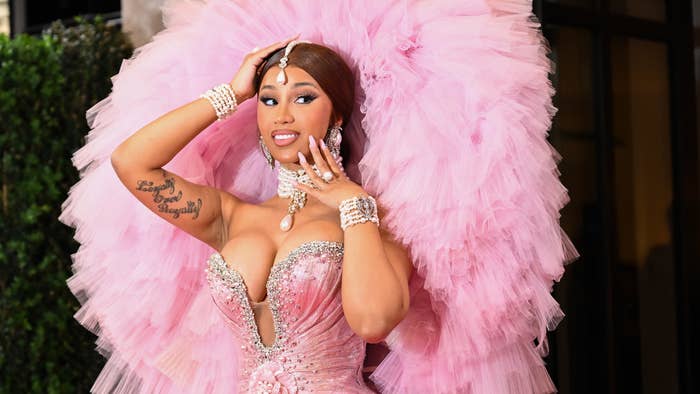 Following the release of the "Put It on Da Floor Again" video with Latto, rapper Cardi B has suggested she misses her pre-fame lifestyle.
"When is Cardi gonna transition to full millionaire like why are you posing with guns and things in the put it on the floor again remix video," a fan asked of Cardi. "You wanna know wats so crazy?" she wrote in her response. "I was tearing the other day cause I miss my old life... Sometimes having everything GETS BORING... But I won't complain it's not about me anymore. This is part of growing up and bout my kids... But yea PUT IT ON THE FLOOR !!!"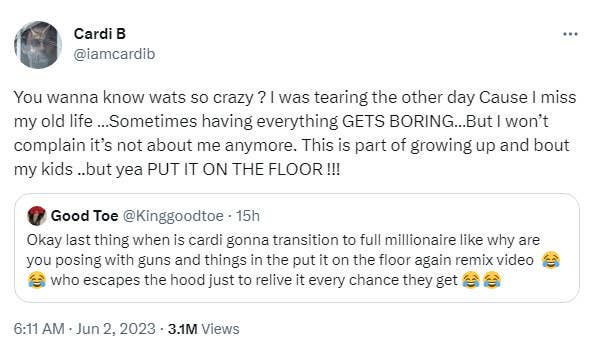 It would be difficult for Cardi B to return to her pre-fame lifestyle when considering how successful she's been as a rapper. In April, the 30-year-old celebrated the fifth anniversary of her debut album, Invasion of Privacy, and said she still makes "millions of dollars" thanks to the record. She has yet to announce a follow-up effort, but she's been showing up plenty on remixes and impressive feature verses.
Of course, she's also acknowledged the privilege her continued success has afforded her. Earlier this year, she expressed shock at how much inflation has impacted grocery prices. "I went to a supermarket, I'm seeing that everything tripled up," she said, adding that she "can only image what middle-class people or people in the hood are motherfucking thinking."