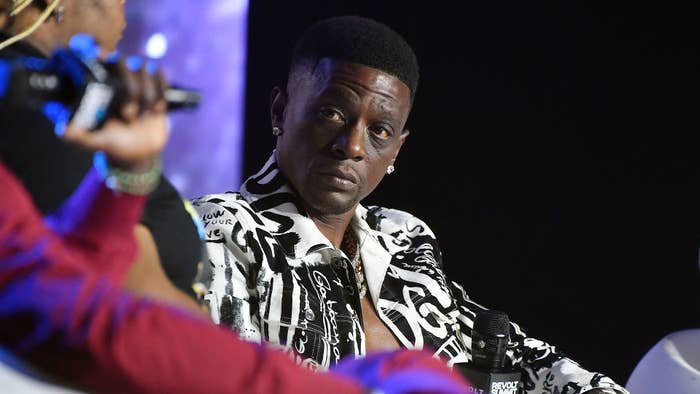 UPDATED June 21, 11:00 a.m. ET: TMZ reports that Boosie's lawyers, Meghan Blanco and Damon Alimouri, revealed his bond is set at $50,000. However, it is unclear if and when Boosie will be released from custody because prosecutors want to try and keep him in jail until trial. The judge denied that request and set the bond amount.
See original story below.
Boosie Badazz made an appearance in court on Wednesday and was arrested by federal agents outside the courtroom following the hearing.
Per TMZ, a spokesperson for the San Diego County District Attorney's office confirmed that Boosie was arrested on Wednesday, June 14 after his hearing as part of a gun case concluded. The charges in the gun case stemmed from a traffic stop last month in which he was discovered to be in possession of two handguns, but the charges have been dismissed. However, was arrested for unspecified reasons when he left the courtroom.
Boosie has not yet commented on the arrest. He was placed in cuffs during a traffic stop last year and alleged Georgia police were targeting him. While he was not arrested during the traffic stop, he did receive a minor citation for marijuana.
The arrest comes a day after Boosie announced his aspirations of becoming a lawyer for hip-hop cases. The Baton Rouge rapper recently showed up to YNW Melly's double-murder trial, which prompted criticism from the father of one of the victims in the case. "I'm not missing no more rap murder trials," he wrote in all-caps in a post on Instagram. "I think I can be a defense attorney [or] at least help some attorneys out!! I'm motivated."
He's been very outspoken when it comes to the legal issues of other rappers and recently criticized Fugees rapper Pras, who he suggested was a "rat." He's made similar comments about Gunna, who took a plea deal in the highly publicized YSL RICO case. He suggested that he wouldn't collaborate with Gunna, who he also called a "rat," even if he was given a billion dollars to do so.