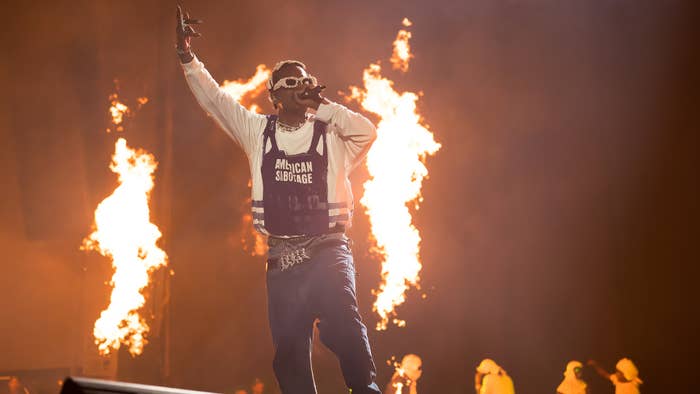 UPDATED 07/24 2:04 p.m. ET: Across a series of posts shared on his Instagram Stories, Ian Connor has responded to Rocky's apparent diss at Rolling Loud.
In a screenshot of their DMs on Instagram, Connor sent a post about the Rolling Loud moment and asked, "Fuck this about?"
In the alleged screenshot, Rocky replied, "Bout nuttin, u prolly wont believe me lol, word to tho, can't blame u if u don't." Connor pressed for more information and wrote, "I like to hear unbelievable shit, cus wasgoin, when we set this tone?" Alongside the screenshot, he added, "No pressure."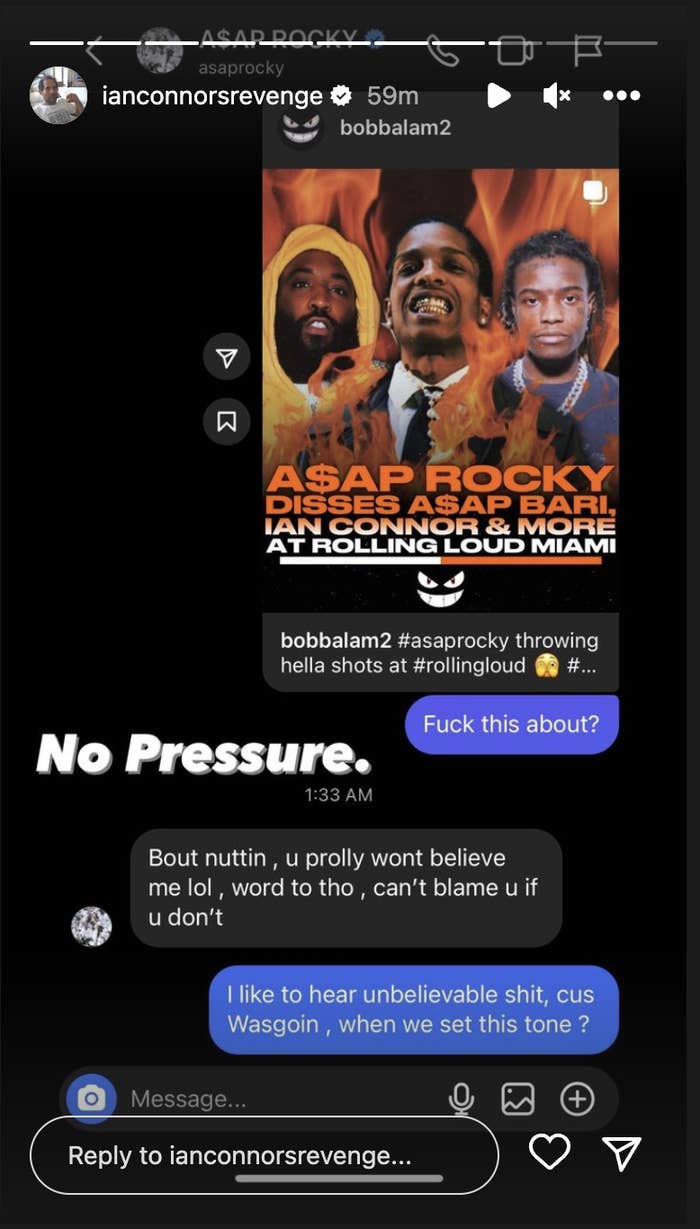 In a later screenshot post to his IG Stories, Connor asked for Rocky to "clear it up."
"They runnin wit dat, I jabbed @ bruh and 4got the lyrics mid sentence, listen closely, 'he da shit,'" wrote Rocky. "Don't feed into that yung, no plea coppin but u know u good in my book we ain't on dat type of time." His reply downplays the apparent diss, while seemingly confirming he meant to diss Bari.
"Tell them folks that Flacko, I look brazy even if it's mistaken," Connor added. "I been out here doin good staying sucka free to minimal bullshit and now I'm all over the place for you taking shots at Bari. Instant Karma maybe but I can't digg that."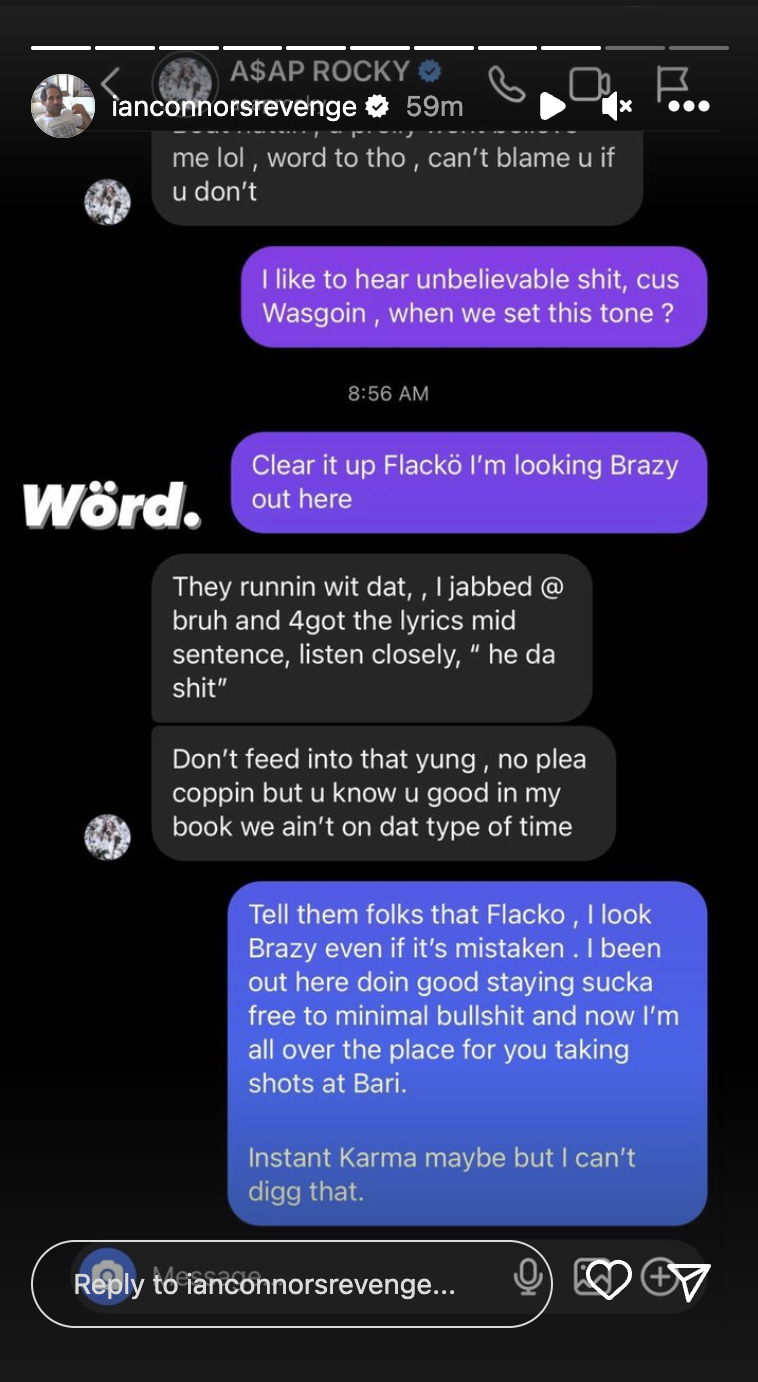 In a final screenshot, Connor indicated that he wasn't happy about how the situation played out. "Don't put my name in no songs from this point forward, y'all n***as is not Lil Durk and I'm not India," he wrote.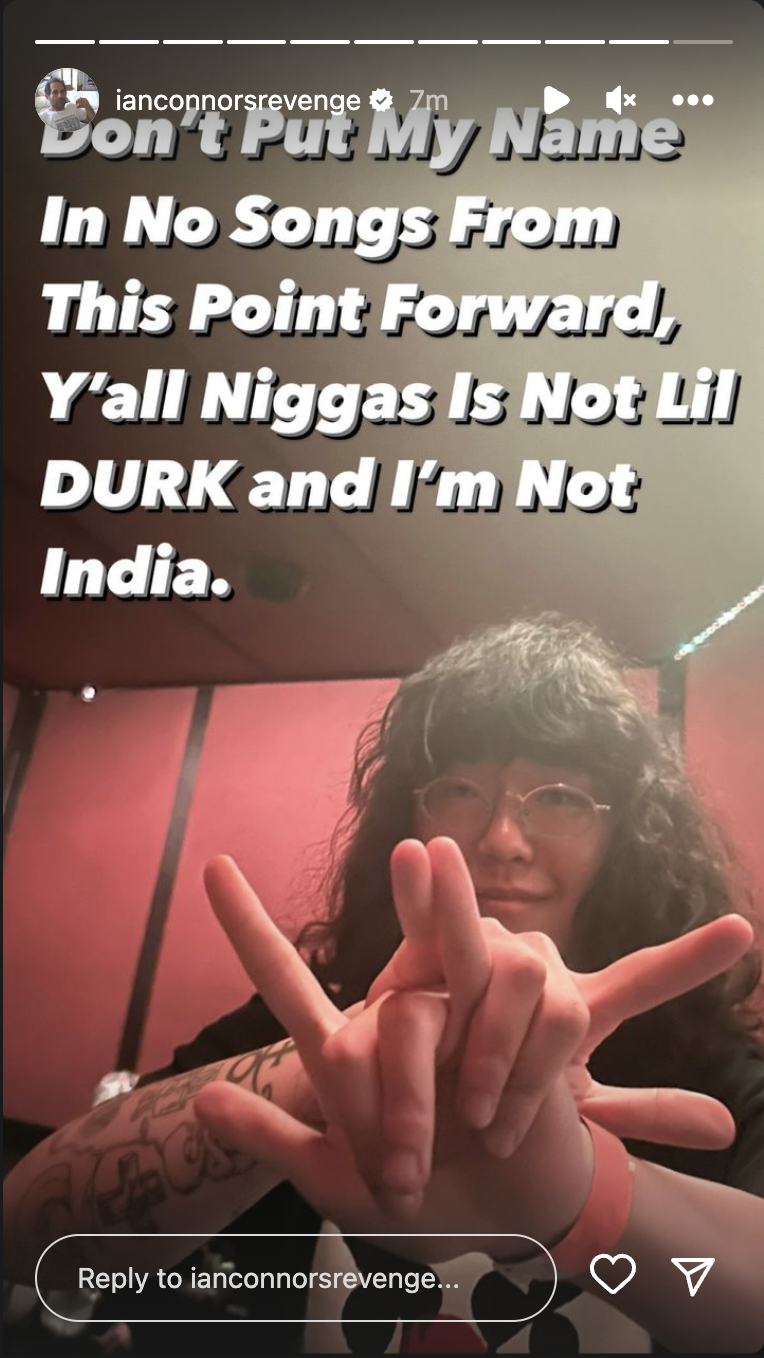 Rocky has yet to publicly address the Rolling Loud performance.
See original story below.
During a performance of the 2016 ASAP Mob track "Telephone Calls" at Rolling Loud Miami, ASAP Rocky revised the lyrics to take aim at his former collaborators ASAP Bari and Ian Connor.
"Call up young lord ASAP Bari, he a bitch," he rapped during his verse of the song, which appeared on the Cozy Tapes: Vol. 1 project.
"And the young boy Ian Connor, he a bitch," he added. On the original version of the song, Rocky described Bari as "legit" and said Connor was "off the shit."
In 2019, Bari pled guilty to one count of sexual assault in London following a video of a 2017 incident that showed him assaulting a nude woman. Connor, meanwhile, has long faced allegations of sexual assault and misconduct, with at least six women coming forward against him. In 2016 Bari reportedly punched Connor when he confronted him about the allegations.
Bari was removed as co-founder of the fashion label VLONE last year. "We will not partake in any irrational behavior associated or related with Jabari 'Younglord' Shelton," the brand said in a statement. "He has no authority to style himself as "Mr. Vlone," use or license VLONE – this behavior is contrary to our collective."
Drama amid the ASAP Mob camp flared up when co-founder ASAP Illz and Bari said ASAP Ferg was "no longer part" of the collective. Ferg refuted the claims, as did ASAP Nast.
Rocky previously supported Connor, telling Kerwin Frost in 2020 that he stood by the stylist, who has consistently been embroiled in controversy. "I heard of people doing some real fucked up shit," Rocky told Frost. "I can say that he gets picked on more than people think. A lot of it is cyberbullying."
During Rocky's performance at Rolling Loud, he also previewed a number of songs from his forthcoming album Don't Be Dumb, including a song tentatively titled "Taylor Swift."
In an interview with Complex earlier this month, he teased that the project will feature production from the likes of Tyler, the Creator, Madlib, Hit-Boy, Boi1da, Alchemist, Metro Boomin, Mike Dean, and several others. He also spoke about potential collaborations with Rihanna. "I'm always down to collab with my partner," he tells Complex. "She's a phenomenal creative. Yeah, there's a lot of things we're going to collaborate on, from products for children, there's a lot of things to look forward to."