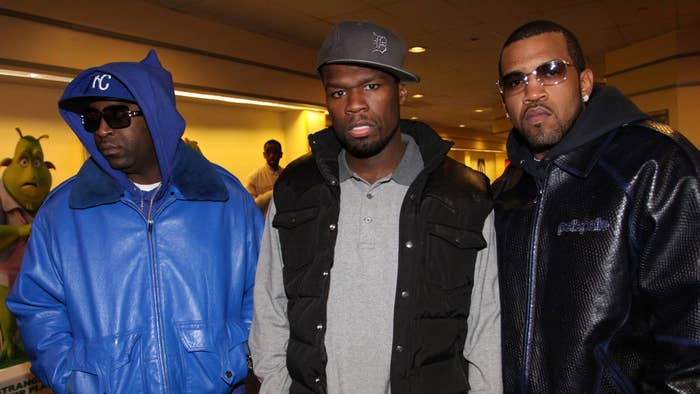 50 Cent has addressed his G-Unit days in his new book, Hustle Harder, Hustle Smarter, and he has thoughts on how Lloyd Banks and Tony Yayo's careers went. As HipHop-N-More pointed out, Fif dedicated a full chapter to the subject, asserting that both Banks and Yayo failed to adapt to the changing landscape of hip-hop.
"I always felt that if I had maybe done a better job teaching Banks and Yayo how to evolve and change their habits, they each would be in better places right now," he said in the book, noting they both had "unfulfilled potential." "While I was out hustling, Banks was more content staying on his porch and watching the world from there. ... Banks wanted things to come to him, as opposed to going out and getting them for himself. That's not me trying to assassinate his character—the guy has 'Lazy Lloyd' tattooed on his arm. He literally wears his laziness on his sleeve."
50 Cent said that as he noticed both Banks and Yayo failing to build on their success as part of G-Unit, he actually told Banks to evolve and promote himself better. "Years ago, I told Banks to film a video of his life and post it on YouTube," Fif explained, adding that he wanted the rapper to have a "viral" moment of sorts. "I'm not saying anything here I haven't said to Banks directly," he continued. At one point, he told him that he should get on Instagram because he can "be a little awkward in person." Banks allegedly shot down the idea, and that if 2Pac and Biggie didn't do it, then he didn't want to. Fif explained to him that if they were alive today, they would probably be active on social media, too.
"When Banks made that comment to me, I realized he'd gone as far as he could go. In fact, my exact thought was 'This is someone I can't invest another minute or dollar in,'" 50 Cent explained. He said that both Yayo and Banks were stuck in with an outdated or more street-oriented mentality, with Yayo even suggesting that profits from club appearances could be used to buy cocaine to flip. "If I got into a disagreement with another artist, Yayo's reaction was, 'Let's just bang 'em,' because that would have been his response back in the neighborhood," he said. Time and time again I'd have to tell him, 'Yayo, we can't do that. Nothing else is gonna work if we're just running around doing dumb shit.' We're gonna be outta here just as fast as we got in here."
G-Unit hasn't been active for a long time, and 50 takes on something of a regretful tone when looking back at how it fell apart. "My intention was for G-Unit to be the first branches in a family tree," he wrote. "I birthed my sons, but they didn't bear me any children. It all stopped with them."
Hustle Harder, Hustle Smarter is available in numerous formats now.