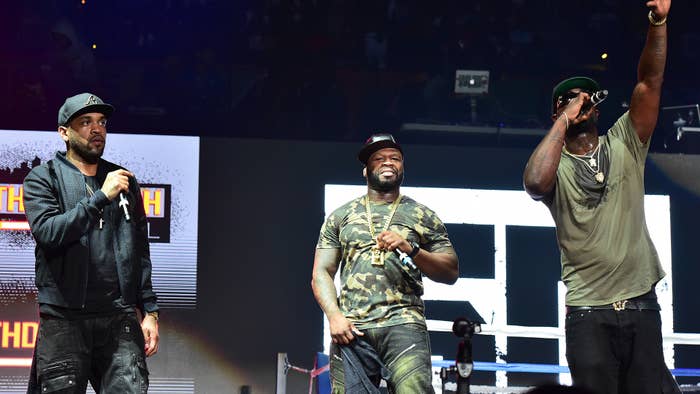 As the North American leg of his Final Lap Tour comes to an end, 50 Cent dissed his former G-Unit bandmates Young Buck and Lloyd Banks in a video recap of a recent show in New Jersey.
The clip, which showed Fif backstage before and after the show as well as clips of him performing, features a brief joke in reference to Banks. "They think this is something? Wait 'til they see Lloyd Banks' tour," he joked from the green room at the PNC Bank Arts Center. He then followed it up with a reference to Young Buck. "Wait 'til they see Straight Outta Cashville," he added, which refers to the former G-Unit member's debut solo album.
Over the years, 50 Cent has publicly beefed with his former bandmates. In 2020, for instance, he said he doesn't care about the idea of a G-Unit biopic or series because he'd rather "forget" about the group. Last year he made another reference to their solo careers, which he suggested never took off in the same way he did.
"What's ill is, when you're in the seat, the driver's seat, a lot of times, no, every time something goes wrong it's your fault. If you ask artists why their career didn't go the way they want, it's the [fault of the] record label. See what I'm saying?" he said in an appearance on Houston's 97.9 The Box. "People are upset because they felt like they coulda did it, 'if you had did it for me. So it's your fault you didn't do it for me.' I can't make people buy records."
His latest comments, however, come after he seemingly buried the hatchet with Jadakiss and Fat Joe, two of his former rivals, at a Brooklyn show of the Final Lap Tour. He's seemingly not interested in settling his differences with Buck and Banks, who both left G-Unit in 2018 following disputes with 50 Cent.
50 Cent's Final Lap Tour has made stops in cities such as Los Angeles, where the unfortunate mic throwing incident happened, and in Dallas, where he complained about the heat that it forced him to cancel his Phoenix show.