 We are making this a thing as long as Big Sean continues to make poor decisions in the booth. I fuck with most of his music, but one thing that I do not fuck with is his love for the corny lines I'm about to highlight. TWENTY88, Jhené Aiko and Sean's collaborative offering, dropped today and it's pretty good. The beats are great, Jhené's voice is a pleasure to listen to, and Sean is cool whenever he's not saying things like, "You got people in our business like 'U' and 'I' is." Listen, there is more where that came from, believe me. I powered through this project to do God's work.
I needed to be resuscitated when I was done because the lines were mind-numbingly horrid. Playing these lines over and over and over again would put anyone in a daze. I hope you enjoy The Most Big Sean Lines on TWENTY88 more than I enjoyed putting it together.
"Ya' both dated NBA players, it figures/I guess with figures like ya, ya need n****s with figures" Song: "Déjà Vu"
He continued, "That's figures on figures."
"You know I'm from A Tribe Called Questions/I need them answers now like its test time"
Song: "Selfish"
A Tribe Called Quest like: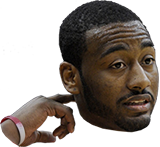 "When you hop up and turn around, I can't handle it/I might pass out like a pamphlet"
"You know I can spend all night and camp in it/You know I like to tell you what to do, I micromanage it"
"Plus I know all your insecurities/And I don't mean like mall cops/I mean the type we all got"
"F*ck is you sayin'? Who are you talkin' to?/Never call you a b*tch, but who are you barking to?"
"You got these people in our business like 'U' and 'I' is/You probably didn't even catch that did you?"
"You covered all the bases like you knocked it out the park"
"And you get carried away like you're wearing wedding dresses"