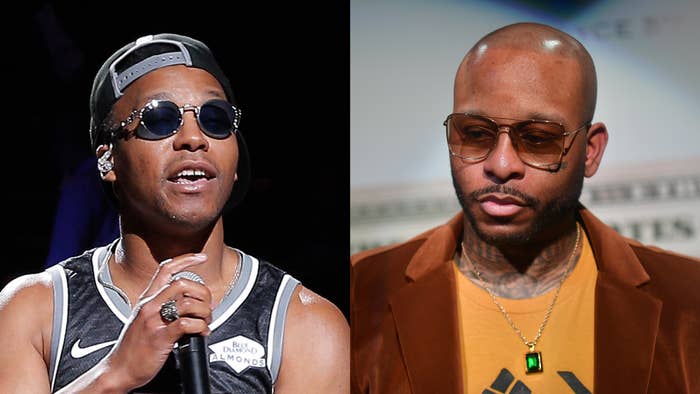 How do two friends and rap titans go from co-hosts of The Lupe and Royce Show to trading disses? In the case of Royce Da 5'9" and Lupe Fiasco, you can blame Instagram Live, outside forces egging on the banter, and "healthy competition" that quickly became so toxic that the two were soon rapping about shooting sons and saying things like, "I wish they would've left Biz here, and fuckin' took you."
Here's the breakdown of the circumstances leading up to Royce and Lupe's disses toward each other, from the trolling-filled debates about who is the better rapper, to the moment someone was called the B-word, to their reflections on the perceived disrespect of the others' disses.
On June 25, Royce posted a screenshot of rapper RJ Payne's claim that he and Ransom are the two best rappers with a chest-thumping caption where he sought to lyrically spar with them. Royce playfully told them, "I'm about that contact and I grew up with brothers so I don't mind squaring up with family." 

The post came after Royce posted song clips from his Bar Exam 4 mixtape, including a freestyle over Lupe's "Mural" classic. In the caption of the post, he reflected that Lupe, King Los, Ab-Soul, and Cyhi were "on my list of people to terminate" at the time he made the song, adding, "Ya'll were too good and y'all talked too goddamn much." At this point, it seemed Royce was just trying to stir up some healthy competition amongst his fellow lyricists.
June 25: Royce and Lupe have an IG Live convo
June 25: Royce and Lupe have another IG Live session where tension builds
July 1: Lupe and Royce reference the tension on their podcast
July 15: Artists discuss a battle between Lupe and Royce, but things go left
July 15: Lupe immediately spits a 15-minute freestyle with shots at Royce
July 22: Royce drops "Lambda," which includes disses toward Lupe
July 22: Lupe drops a scathing reply to Royce
July 22: Royce responds to Lupe's diss
July 23: Lupe announces their podcast is over
After Royce (and Joe Budden) got at Mickey Factz during an IG Live session, the Bronx rapper released a scathing Royce diss of his own. He followed up after Lupe by questioning Royce's style and his proximity to Eminem, then dissed Royce in the style of Ransom and RJ Payne, two of the MCs who were evoked at the start of the fracture. FWIW, though, Ransom has tweeted that he and Payne are on Royce's side in this one. 
Mickey's diss was so potent that Royce made an IG post calling out him and Lupe for ganging up on him, and ominously asked, "Nerd know GOAT got rapper friend too?" After this clip, onlookers were wondering what the next chapter in the rap free-for-all would be. 
July 28: Lupe responds to Royce on IG Live
July 28: Royce says he and Lupe could have traded disses 'the right way'