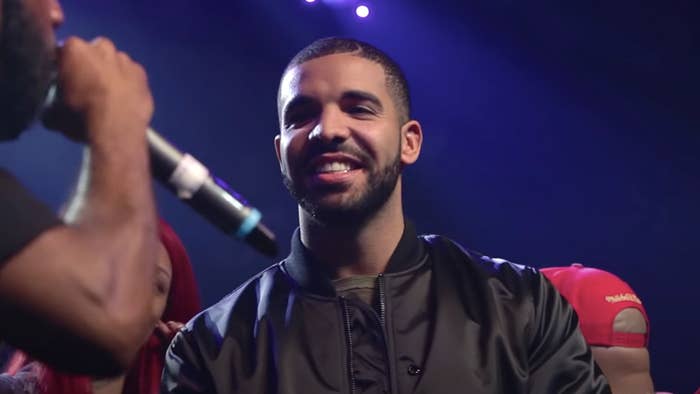 How big of a battle rap fan is Drake? Last week, battle rap media personality Heavy Bag raved on his Restore Order show that the Toronto rapper once walked up to him backstage during a mid-2010s event and recognized him from the battle rap outlet he worked for—which is something only someone deeply in tune with the scene would know. 
The battle rap world feels secluded from the mainstream rap industry a lot of the time, only getting the attention of the general public when rounds go viral—or when well-known entertainers like Drake, Eminem, Method Man, Joe Budden, Nick Cannon, and Cassidy break bread with the culture. This weekend, Drake will be at URL's NOME XI, rewarding the winner of the platform's 16-person Ultimate Madness 3 tournament with $100,000 out of his own funds. 
Drake rarely appears at events these days, but his presence has been felt in various ways. In 2020, he partnered with Twitch competitor Caffeine and signed a multi-year deal with URL to bring the league to streaming and help make it more accessible to fans. Live URL battle events have been the backbone of the app, as have the numerous shows hosted by URL battlers. Celebrity involvement in a fringe community can be harmful, but Drake has only helped battle rap leagues like URL and the Toronto-based KOTD (King of The Dot) thrive, which is a credit to him. 
His support for battle rap has been public knowledge since 2009, when he told Nardwuar about Toronto rapper and journalist Mindbender being at KOTD events (a rare instance of a Nardwuar interviewee dropping an obscure reference). Drake has told The Village Voice that Take Care recording sessions were stirred by battlers like Hollow Da Don and The Saurus, noting, "It gets me excited in the studio, to watch these rappers, to see them rap for a whole different cause."
In 2011, he struck up a formal relationship with the KOTD league, calling himself an "official King of The Dot representer," co-hosting and funding events, and maybe almost battling at one? Since around 2015, though, he's mainly dealt with KOTD rival URL, which is widely regarded as the biggest and best league, due to its lineage and amount of "homegrown" stars. 
Here's a timeline of Drake's involvement with the battle rap culture, highlighting his most impactful contributions, from helping events happen to aiding battlers in their time of need.
2011: Drake co-hosts KOTD's 'Flatline' event
2013: Drake co-hosts KOTD's 'Blackout 3' and OVO sponsors their 'World Domination 4' card
In July 2014, Joe Budden battled Hollow Da Don as the main event of the Eminem-backed Total Slaughter battle. The event followed a reality show, in which eight battle rap stars battled for the right to be on the card (which also featured a rematch between legends Murda Mook and Loaded Lux). 
Total Slaughter was a polarizing moment within the battle rap world. While some thought the Total Slaughter experience was a good look to grow the culture, some critics felt like the reality show's $1,000 payments to battlers were too low, the event's stage set wasn't true to traditional battle rap events, and the crowd wasn't a diehard battle audience. In short, it felt a bit culture vulture-y to some. Drake decided to chime in on the night with a tweet affirming KOTD's superiority, a move that could be considered shouting out the originators over the imitators. 
In battle rap, the face-off pic, where two artists stand across from each other, boxing-weigh-in style, is a gesture to let fans know a battle is on the way. Drake is enough of a fan to know that. So when battle rap legend Murda Mook posted a photo of him standing across from Drake, speculation ran rampant in August 2014. Mook has revealed that he told Drake not to take the picture if he wasn't serious, so Drake must have been intent at that point that he would battle Mook one day. Mook later said that the two were "getting it together," and he and Dame Dash even asked Floyd Mayweather to put up $15 million for the battle.
2015: Drake helps set up KOTD's 'Blackout 5' card
2015: Drake almost battles Mook (and half of battle rap) at 'Blackout 5'
2015: Drake goes to URL 'NOME 5,' jokes about Murda Mook battle
2018: Drake tells LeBron he 'studies rap battles for a living'
Last year, Drake solidified his relationship with URL in a major way by linking the league with streaming app Caffeine. The deal was part of his multi-year agreement to help bring content to Caffeine. The move to Caffeine helped URL revolutionize their model to the delight of fans, as they shifted from charging $50-ish for streaming access to events to streaming them for free on Caffeine. 
URL has also helped Caffeine, as co-founder and CEO Ben Kreighan raved to Bloomberg, "Our anchor content is battle rap. It's working super, super well." The league's profile helped the platform raise $113 in investments last July, which further legitimizes that battle rap isn't just some hobby—it's a bustling business. Drake's role in the Caffeine deal will likely be the biggest fingerprint he leaves on the battle rap culture. 
It's been said that Nu Jerzey Twork is one of Drake's favorite battlers. The New Jersey-based rapper is electrifying when he's on his game—but he suffered a major life setback when he got into a serious car accident in late 2020. Drake was one of the people who looked out for him while he recovered by donating to his GoFundMe, which Twork saluted. 
In late 2020, Drake shouted out one-time (almost) battle rap rival Murda Mook after his battle with Tay Roc, which is widely regarded as one of Mook's best showings in years. Drake DM'd him and told him it was "some of the best battle rapping I ever heard," and also called the bars "soul snatching confidence crushing stomach dropping poems." I guess he liked them.
Drake hasn't been seen at URL events since facilitating the Caffeine deal (possibly due to COVID protocols), but he'll be in attendance for NOME XI, one of URL's premier events. This year's NOME is a two-day event which will also showcase the final match of their Ultimate Madness 3 tournament between LA's Geechi Gotti, arguably the hottest name in the scene, and Arizona punchline god Rum Nitty. Drake will be giving $100,000 of his own funds to the winner.