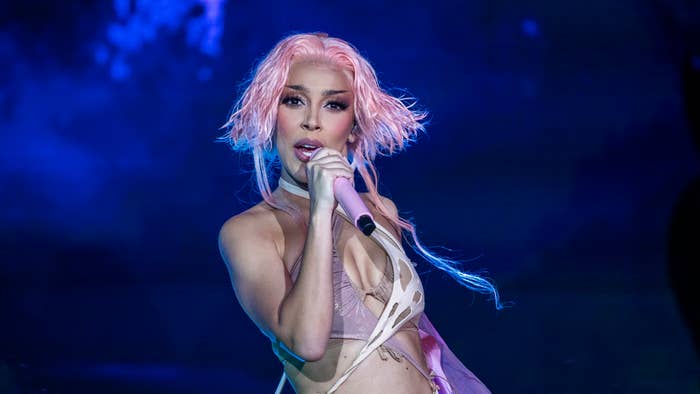 Remy Ma rejected the notion that Doja Cat is a rapper during a recent episode of Drink Champs. 
"I don't think she's a rapper," she told Drink Champs hosts NORE and DJ EFN. "Let's be clear with that. [The Grammy committee] put her in the rapper category, and I don't think she's a rapper. But she makes dope records, and I think she's dope."
Remy isn't alone. Her comments reflect a popular perception among a certain sect of rap fans. Despite the fact that Doja raps on most of her songs, many hip-hop fans refuse to refer to her as a rapper, labeling her as a pop artist instead. We even see it in our own comments sections at Complex. Last November, our Instagram post celebrating the best rappers in their 20s was riddled with befuddled commenters asking variations of "Why is Doja Cat even on this list? Since when is she a rapper?" Similar messages filled the Instagram comments section when it was announced that Doja's Planet Her became the most-streamed album by a female rapper in history.
"Is Doja Cat a rapper or?" is one of the first questions listed under the "people also ask" section on her Google search results. When attempting to label multi-talented artists like Doja, fans find themselves confused, and it starts to become apparent how pointless the categorizations are. But it also hints at a deeper issue. The industry is flooded with artists who sing and rap, but male artists aren't having any trouble being considered rappers (sometimes to their dismay). On the flipside, Doja Cat is a prime example of genre-bending women who're primarily being labeled singers.  
Doja Cat started her career rapping in the LA underground scene, and she still raps on many of her songs (like "Rules" and "Juicy"), but she is widely considered "just" a pop star because she sings on some of her biggest Billboard hits. The Grammys committee nominated her in pop categories, but not rap categories, and hip-hop fans continue to fight the notion that she's an MC. Yes, part of her catalog allows her to sit next to Olivia Rodrigo, Dua Lipa, and SZA on a festival bill or in an award category. But she also fits next to Nicki Minaj, Cardi B, and Megan Thee Stallion as an MC capable of dropping fun, technically strong verses over a variety of beats. Despite her talent, she, like other Black artists before her, is boxed in by fans and industry machinations. 
Doja recently won a Grammy with SZA for Best Pop Duo, but she also topped the Billboard Hot 100 with the Nicki Minaj-assisted "Say So" remix, which was a first for a woman rap duo. Her pop songs shouldn't negate her bars. After people questioned her Best Female Hip Hop Artist nomination at the 2021 BET Awards, she even tweeted at her detractors, telling them, "DONT EVER FUCKIN DISRESPECT ME AS A RAPPER. AFTER THE LAST SONG I DROPPED YOU WILL RESPECT MY PEN AND THATS FUCKIN THAT."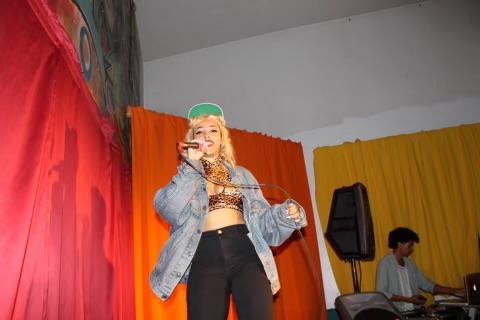 Remy Ma's opinion on Doja's rap credentials reflects antiquated notions of what a rapper can be. When Remy first started rhyming in the mid-'90s, there was no confusion that Lil Kim, Foxy Brown, or Biggie and Tupac were rappers. They infused their verses with melody, but they usually got an R&B singer to lace the hook if they wanted their records to feature full-on singing. Versatile acts like Lauryn Hill, Ol' Dirty Bastard, PM Dawn, and Missy Elliott existed in the '90s, but they were exceptions to the rule. There weren't yet enough genre-benders at the time to have a "state of the culture" discussion, which meant that the rules of rap were rigid. 
But over time, the rules shifted as melodically inclined artists like Kanye, Drake, and Lil Wayne broke boundaries. Soon, "genre-bending" became a genre all to itself. The modern music landscape is dominated by artists like Drake and Nicki Minaj, who fall in the Lauryn Hill archetype as traditionalist-appeasing MCs who have records where they're singing their hearts out, but are mostly deemed rappers. In the muddy middle ground are artists like Future, Young Thug, Gunna, the late Juice WLRD, and thousands more who are demeaned as "mumble rappers" by fans who don't understand them (but still call them rappers). And on the other end of the spectrum there are artists like Doja Cat, who are introduced to the masses through so-called "pop songs" that feature singing, but also drop verses that prove they're more than capable of rapping. The latter group is mostly excommunicated from rap discussions. 



"When they were developing her, I was like a live performance coach and rap coach. I would play her hella hip-hop videos and we'd freestyle." – VerBS
So why do fans consider Drake and Juice WRLD to be rappers, without giving it a second thought, whereas Doja Cat has a much harder time receiving that designation? Part of it has to do with gender. Women have historically had a difficult time being taken seriously as rappers by the hip-hop community. Women MCs are often put in a "female rap" box, which most male fans regard as some kind of junior league to the male rap arena. As Che Noir told Complex, people automatically assume women in rap have writers, and if they don't have ghostwriting accusations, men often criticize them for their sexualized content, while having no issue with raunchy raps or repetitive content from their male counterparts. With those obstacles in place for women in rap, it's sadly unsurprising that fans are reluctant to call Doja a rapper. To many of them, she must not be writing her raps because pop stars have writers, but there's no indication that that's the case with Doja, who often posts her lyrics on the SoundCloud uploads of her songs. 
Perhaps things would be easier for her if we removed the ambiguous "pop star" term and simply regarded her as a rapper-singer. Pop music is a mysterious term full of historical prejudice. Iconic Black vocalists like Prince, Whitney Houston, and Michael Jackson had trouble being welcomed into the pop world despite performing the kind of records that their white peers—more easily deemed "pop stars"—were singing. And now, Black artists who came out of the gate rapping have a hard time shedding that label. Artists like Drake and Kanye West routinely break records with their album releases but are never deemed pop stars like Taylor Swift or Olivia Rodrigo.