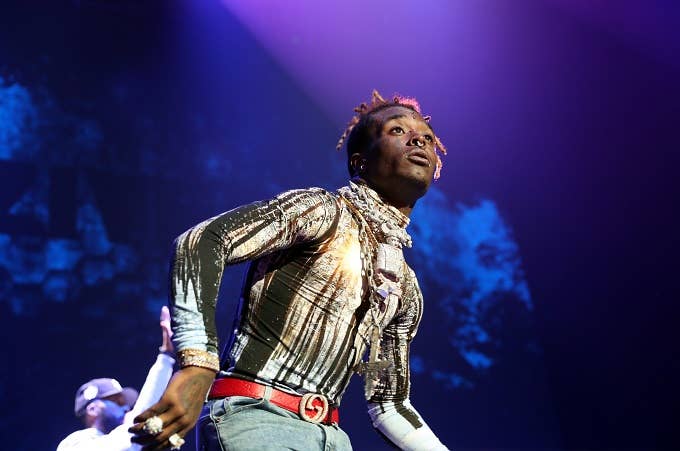 Lil Uzi Vert spoke with some fans about his record label woes and how they are keeping him from releasing his highly anticipated album, Eternal Atake.
"I gotta figure it out," he said in a video shared by DJ Akademiks on Instagram. 
He said that the problems with his album release have reached a point that he might have to "start over" on a whole new project. 
Vert added that it comes down to an issue of respect. He feels that Atlantic Records isn't reciprocating the respect he paid them by choosing to sign with them. 
"I really just want them to respect me. They just gotta respect because like I respect them, that's the reason why I really went over there," he said. "Like normal shit, it's just a different level in life. Everybody go through the same shit."
The Philadelphia rapper is clearly not happy with his current record deal. On the Shabazz PBG song "Shells," Uzi openly wondered how he could leave his contract behind ("Tryna figure out how I'm gon' get out my deal"). And that's not the first time that he has spoken candidly about his situation.  He took to social media last month and let loose his anger over the delays of Eternal Atake.
"You think I don't wanna drop music? You just gotta understand, when people don't love you, they'll hold your life if you sign a motherfucking … Hold that shit against you … And that go for the streets too. You ain't supposed to sign no motherfucking paper in the streets because that's ratting," he said. "How the fuck I even sign this shit as a deal? Motherfucker set myself up. What other way I was suppose to let this shit go? Shit, it be all good at first just like them motherfucking rats. Motherfuckers be right out of jail."
That same month the frustration built to a point where Uzi said he was quitting the music business. 
"I wanna take the time out to say I thank each and every one of my supporters but I'm done with music," he wrote on his Instagram Story. "I deleted everything. I wanna be normal ... I wanna wake up in 2013. You are free."
While Vert's almost definitely not done with music —he shared that he was eager for studio time late last month— it's clear that he's just about had it with the machinations that come between him and releasing his music.