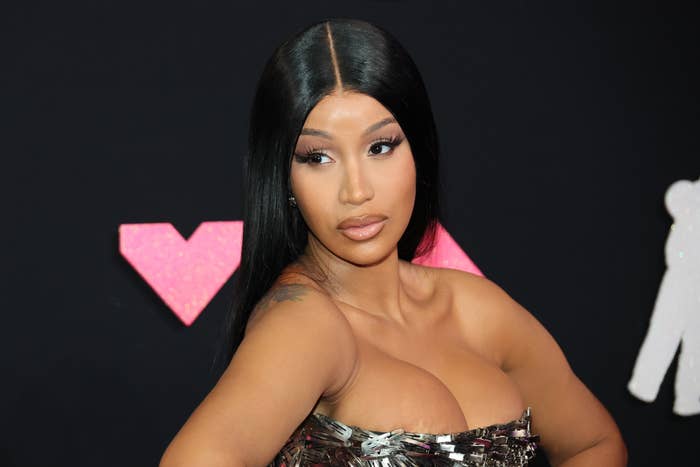 Cardi B is deeply concerned about the newly proposed New York City budget.
The new controversial budget calls for billions of dollars of cuts, removing hundreds of millions from schools, libraries, the New York City Police Department, and sanitation, according to ABC 7. Mayor Eric Adams recently announced that the cuts, allegedly motivated by the city's migrant crisis, will go into effect immediately.
In the wake of Mayor Adams' announcement, Cardi has spoken out regarding the matter. During an Instagram Live stream on Saturday night, the rapper said, "There's going to be a $120 million budget cut with schools, with libraries and the cops and the police department, and a $5 million budget cut in sanitation … Bitch, we going to be drowning with rats. We're going to be drowning in fucking rats."
The 31-year-old also expressed her dismay for politicians, saying, "I don't give a fuck, I'm not endorsing no fucking presidents no more. 'Cause how is that a hundred million dollar budget cut in New York City for fucking schools, library, police safety, and sanitation? Yet Joe Biden talking about like, 'Yeah, we can fund two wars.' … Motherfuckers talking about 'We don't got it' but 'We got it,' like we're the greatest nation. No, the fuck we're not. We're going through some shit right now."
"That's like a n***a trying to front like, 'Yeah, I got the money to support two bitches,' but you really don't. Y'all talk about [how] y'all don't fucking make negotiations with the ops but y'all need to sit the fuck down with these people find agreement," she quipped.
While acknowledging her privilege that comes with wealth and fame, Cardi also expressed concern for her loved ones who are still living ordinary lives in the Bronx. "I'm lucky, I'm blessed, I'm whatever the fuck. But what's gonna happen to my nieces, what's gonna happen to my nephews, what's gonna happen to my cousins? My aunts, my friends … that's living in the hood?"
She continued, "I'm from the Bronx, I don't wanna see my shit affected … Bitch, New York is already fucking super dirty … and we're gonna get even dirtier with the budget cut."
The "Bongos" rapper cited several potential scenarios of what could happen should the cuts proceed, including cuts to after school child care, shutting down libraries, the rise of crime, among other issues.
Despite politician's reluctance to say outright that the United States is in a recession, Cardi warns that other states may experience similar budget cuts themselves "little by little."
She added, "I can't even fucking explain it. I'm scared to explain things … but the point is, that it's like we cannot fund these wars … we can barely fund this country. Finish it. Y'all need to finish it. Stop fronting like you got the fucking money. You don't got no money, you ain't got no sugar for your hunnies … These leaders, they don't have our best interests … I'm always gonna speak for the people."
Opponents of Mayor Adams' budget are questioning the real motivations behind them. "This has never happened in the history of New York City," said Michael Mulgrew, president of the United Federation of Teachers, per ABC 7. "The financial problem, as far as we know, is completely fabricated. We've been involved with budgets forever. We see what's going on. The mayor said this is because of the asylum seekers. There is no foundation, there is no evidence."
Cardi has used her platform in the past to raise awareness about issues from everything to inflation, to the war in Ukraine, and the rising costs of groceries, among other subjects.
"I swear to God, if something happens to me, it's because I gotta speak the truth. I cannot be fucking quiet," she said as she closed her livestream.