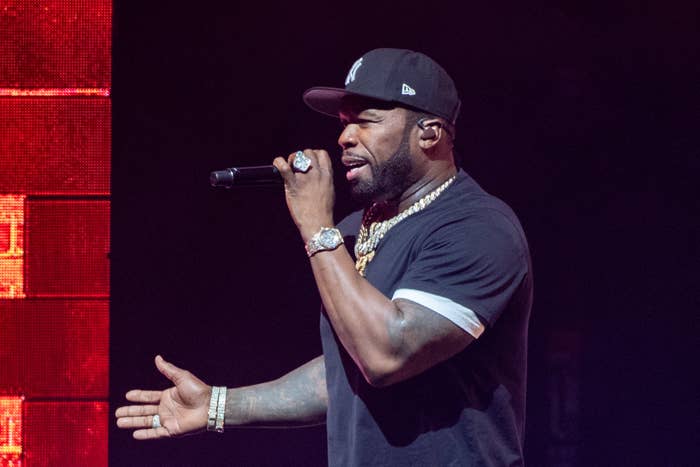 Atlanta Hawks owner Jesse Itzler shared an important lesson on how far kindness and loyalty can get you in the world, and one of his biggest case studies is 50 Cent.
In a video shared on Instagram, Itzler recalled the time he hired a young Curtis Jackson as his intern for Alphabet City Sports Records, a music marketing company he founded in 1996 but eventually sold.
"I have this kid who's a boxer, who wants to be a rapper, but he wants to get some business experience. So we made a deal that he would intern for me for whatever experience I could give him, and in exchange, he'd help me write these jingles that I was doing at the time," says Itlzer in the clip.
"Fast forward 10 years later, we go on our own way, and 50 becomes this amazing international star, and I have a private jet company called Marquis Jet," he added. "And by fluke, he's a guest on one of our airplanes. So I had the pilot write a note. It said, '50, you're never gonna believe this. This is Jesse from the jingle company and you're on one of my airplanes.' And the next day he wrote into all of his contracts that he would only fly with Marquis Jet. That is a lesson on loyalty, and you never know who the next 50 Cent is gonna be."

50 confirmed the story and reshared the video to his social media, writing, "This is 100 percent true Jessie is my guy, I think he owns the Atlanta Hawks now I gotta catch up with him."
The G-Unit rapper also recalled his time working for Itlzer in his 2020 book Hustle Harder, Hustle Smarter.

"Those were incredible years. Loved watching your whole journey. Thanks so much for sharing this," wrote Itzler in the comments. "Part 2 of this was when I bumped into you 20 years later in the airport and I was like 'no way he remembers me' and you bear hugged me right away."
50 Cent is currently on The Final Lap Tour in celebration of the 20th anniversary of his monumental debut album Get Rich or Die Tryin'. The North American leg will wrap on Sep. 22 in Toronto.