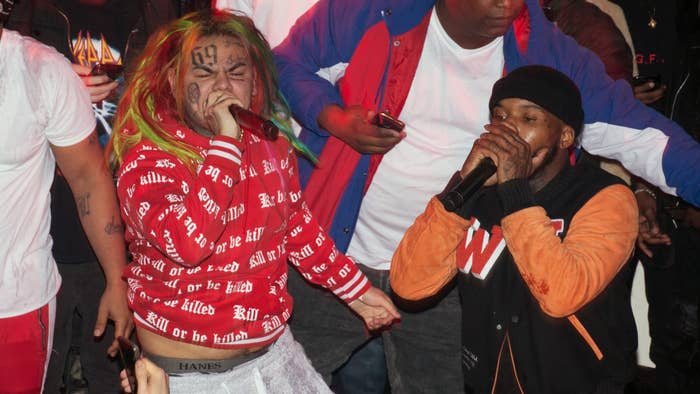 6ix9ine is continuing to joke about snitching.
This time around the Brooklyn rapper, who was recently released from prison early due to the threat of the COVID-19 pandemic, decided to stop by Tory Lanez's popular Instagram Live show Quarantine Radio on Monday. While in the comments section, 6ix9ine joked that he would let people know that Tory is from Canada and not the U.S. if he didn't play his new music. "Lemme play this new shit or ima snitch on u," 6ix9ine wrote. "You not even from America u from Canada."
The two artists previously collaborated on 6ix9ine's "Kika" track.
Last week, 6ix9ine's girlfriend Jade, who's legal name is Rachel Wattley, also joked about the Dummy Boy artist snitching. "He don't want me to tell ya the reason they let em out because they want him to find out who started the Coronavirus 🧐" Jade wrote. "And no, he didn't rat guys 🙄 he just spoke a lil ;-p." 
6ix9ine was released from the Queens Detention Facility on Thursday, April 2 after raising concerns about COVID-19. The rapper's team argued that he was particularly at risk of suffering from complications because he has asthma. 6ix9ine was initially set to be freed in August after being sentenced to two years. He is now under supervised release. 
Shortly after being let out of jail, 6ix9ine joked about snitching on people who were violating Los Angeles' stay-at-home order.
In other news, Tory Lanez dropped off his The New Toronto 3 project last week. The tape features appearances from Lil Tjay and Mansa.