Tory Lanez has just fired a warning shot.
On Saturday night, the 27-year-old artist returned to Instagram to deliver a message to his record label: "Interscope Records ... If y'all n***as don't stop playing w/ me ... I'ma expose what's really going on in that fucking building!"
He commented on the post about an hour later, writing: "This is going to be fun tho ... I Promise."
One fan took to the comments section, urging Lanez to calm down: "Chill bro," the user wrote. "I ain't tryna see you killed."
Lanez reassured everyone he wasn't scared, responding: "That's the difference .... I don't care. My integrity respect and the path of light that i can show the generation after me is more important than this life that n***as is so scared to lose."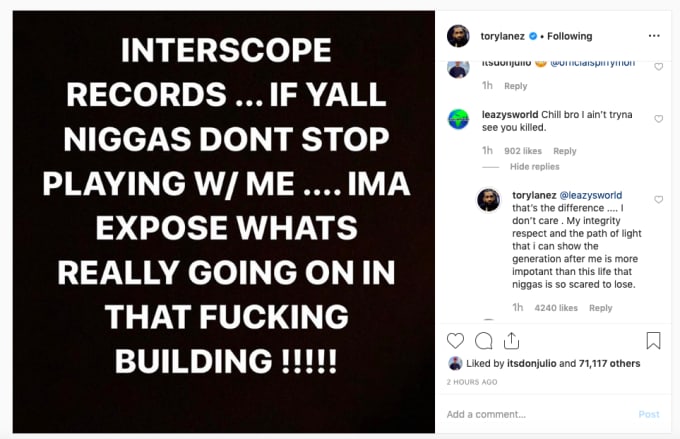 Rich the Kid, who is also signed to Interscope, simply commented: "I'm tellin ya 🤦🏽‍♂️."

It's unclear what prompted Lanez to issue the threat; however, some fans suspect it's connected to his recently released album, Chixtape 5. Though the project has had commercial success, topping the R&B/Hip-Hop Albums chart and peaking at No. 2 on the Billboard 200, the Canadian artist claims Chixtape 5 was causing him to lose money.
"We actually didn't do this from a monetary standpoint, we did this from a standpoint of like, I'm losing money doing the album but what is gonna come out of it? Of course it's gonna be incredible," he said during a Hot 97 interview. "I feel like it's damn near at a place where it's gonna be critically acclaimed because no one ever did it before."
It's no surprise Chixtape 5 was an expensive effort, as it sampled some of the biggest hip-hop tracks from the 2000s: "Foolish" by Ashanti, "Beautiful" by Snoop Dogg, "Can't Let You Go" by Fabolous, and "I Luv Your Girl" by The-Dream, just to name a few.
Lanez's manager, Sascha Guttfreund, addressed the financial question in an interview with DJBooth, claiming Interscope only paid for a portion of the clearances.
"Interscope contributed, but they didn't cover all our costs," Guttfreund said. "Tory is not afraid to invest in himself. I'll tell you that."
Twitter users are convinced money—specifically the cost of samples—is what sparked Lanez's frustration.
Complex has reached out to Lanez's reps for comment.