In September, DJ Premier released the first Gang Starr song since the duo's rapper Guru died after lapsing into a coma following surgery in 2010. The song, the J. Cole-assisted "Family and Loyalty," featured two previously unheard Guru verses. Not long afterwards, we got to hear a lot more. On November 1, a full Gang Starr album, One of the Best Yet, dropped. It features all-new Premier beats, and vocals that Guru recorded between 2005-2009. 
Preem bought the vocals from John "DJ Solar" Mosher, a controversial figure who was close to Guru towards the end of the rapper's life. Premier didn't want to hear the music Guru originally recorded to, instead receiving only a cappellas. He sat with the recordings for several weeks, and then began the 18-month process of creating the record. One of the Best Yet includes guest appearances from Gang Starr mainstays Group Home, Jeru the Damaja, Big Shug, and Freddie Foxxx aka Bumpy Knuckles. Also on board are M.O.P., Talib Kweli, Nitty Scott, Ne-Yo, Q-Tip, Royce da 5'9", and Cole.
Complex spoke with DJ Premier for an often-emotional conversation about Guru's legacy and the creation of the posthumous album. The interview, lightly edited for clarity, is below.
How did the title, One of the Best Yet, come about? What does it mean to you?
Just from the fact that that's something we say at our shows. [Guru] said it on "You Know My Steez": "On the microphone you know that I'm one of the best yet". And then when we did "Full Clip," in the hook it said, "Do you want to mess with this?/Gang Starr/One of the best yet." Whenever we would do "Full Clip" at shows, we'd always do, "Do you wanna mess with this?/Gang Starr." We'd drop the music and point to the crowd, and the entire crowd goes, "One of the best yet!" To this day, when I do performances, I do that same thing. I knew for that line to be that remembered, even after his passing, that's the perfect title for the album.
What was a typical day like making this album?
I had his family give me some of his ashes after he was cremated. So I would do this ritual where I would take sage incense, which is known for warding off evil energy. I would take his ashes out of the urn, because it's in a bag, and I would rotate the sage of smoke clockwise and counterclockwise, latitude direction and longitude direction. It's six times each way, counterclockwise and clockwise. And then I kissed the bag, and I let the smoke from the incense bellow around the bag until it's almost engulfed in smoke. Then I kissed the bag again. 
There's a picture of us. I don't know if you saw the New York Times article where I'm holding that same picture up to my hat. That's the picture that sits up on top of the control boards. So then I let the smoke bellow in front of that picture. And then I do a rotation around that, clockwise and counterclockwise. And then I press the bag of the ashes against it, in between me and Guru, and let the smoke bellow around that. It's almost like that's the security before everything else starts to take place. I don't do it when I'm doing other production stuff that's non-Gang Starr related. But anytime it's Guru or Gang Starr related, I'm always gonna do that ritual.
I texted J. Cole the song, and he hit me back within five minutes and said, 'Bro, I got the chills right now.'
So what would happen after the ritual?
I would go through the a capellas. Just listen and listen and listen. I'm used to him writing to my tracks. This time, I had to write to his vocals. When he used to write to my tracks, I'd make it with him in mind. I know what he likes. So, once he likes a track, I'll leave him alone to write until he's ready to cut the vocals. With this, I have to make it seem like that was still the way it was happening. Just get into a mind state of saying, "This sounds like it could be a record." 
There might be just a hook and no verse. There might be one that's three verses, but it doesn't sound like it's a complete song. And I might say, that verse could actually be another song because of the way he delivered it or the subject matter. Then I make two songs out of one. This is just me knowing it from the years that we've made records.
People went to pretty crazy lengths to be on this, right? What happened with Jeru the Damaja and Q-Tip?
Jeru lives in Germany, but he was going to Chile. His father had just died, so he was coming up to be with his family. He was like, "I could write it on the plane. I'll just jump on and cut the vocals, and I'll go right back to the airport and fly to Chile." That's what he did. So it was crazy, crazy stuff.
Q-Tip just had throat surgery. I was like, "I bet you can't do a verse. How about you just do a hook?" He said, "Hey man, let me hear the song." When he heard it, he was like, "You know what? It sounds so grimey, my throat may sound dope with it raspy like this."
Royce da 5'9" probably has my favorite verse on the whole record.
Royce and I were rehearsing for our PRhyme 2 tour, and I told him about it because I'd been keeping the album a secret. I was like, "You know what? I got this joint called 'What's Real' that could use a verse. You want to hop on that?" He's like, hell yeah. I said, "By the way, we got Guru's ashes on the board, I hope it doesn't freak you out." He was like, "Oh my God, that's inspiration." I didn't know he was going to write it into the song, but that's what really happened. 
How long did you listen to Guru's a cappellas before you started making beats?
About a week or two. It was so emotional just to hear his voice again on stuff that we didn't work on that had potential to be an album. At that time, I wanted to do a couple cool joints just to put out there, so people have something new with his voice on it. I know that's what the fans wanted, and that's what I wanted. I listened for about two weeks. I was actually scared to start. I just kept talking my own self off a ledge, like, "Stop hesitating. If you're going to do it, do it."
I felt like [Guru] was talking to me through these songs—even getting back at all the evil people that were doing him wrong before he left. 
The first song I recorded was "Bless The Mic." The second song was "Bad Name," and that one really grabbed me right away. Then I did "Family and Loyalty." Once I did that, I was like, "This needs a guest. Who do I get?" My manager's bringing up Drake, because I had just done "Sandra's Rose." I reached out to Drake. 40 told me he was getting ready to do the Scorpion tour, so it was going to be really hectic unless I could wait until after the tour was over. I was like, "Nah, I don't want to wait that long." So I thought about Kendrick Lamar. I reached out to them, they said the same thing—he's really starting this new album and in that zone, so doing anything outside that right now might be a little hectic.
Then I texted J. Cole and said, "Hey man, I want to send you something. It's a secret Gang Starr album." I texted him the song, and he hit me back within five minutes and said, "Bro, I got the chills right now." He said, "Oh my God, I've got to be on this. I just need a little time to have some family stuff. I'm about to have another child." He kept his word. After his second son was born, he sent me the vocals over.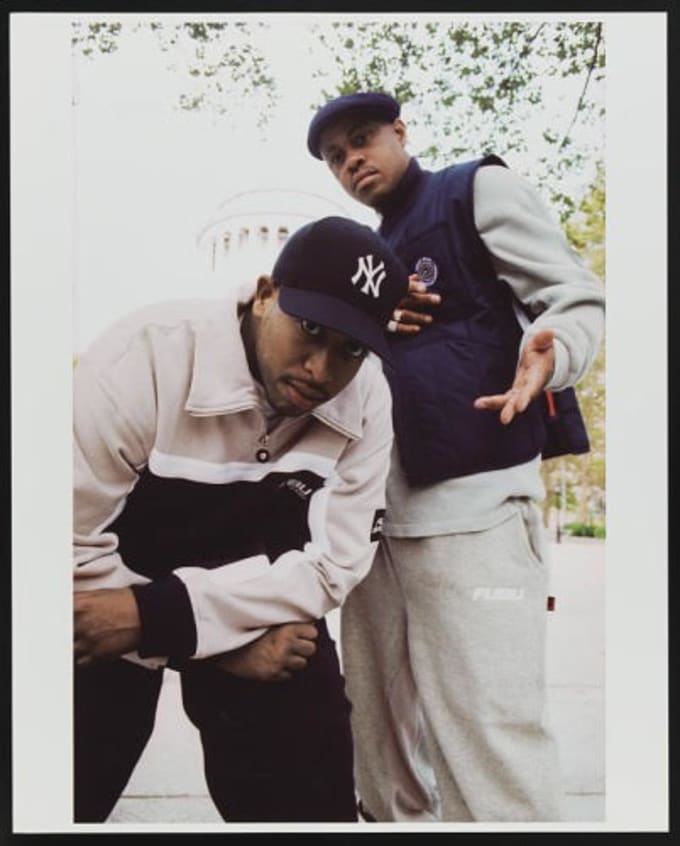 There's an eerie moment on "Bless the Mic" where Guru talks about pulling the plug: "Why'd they try to pull the plug on a brother?/Pull the rug from a brother?" How was it for you to hear him say that, after the way he died?
I felt like he was talking from the grave, man. I saw him in the hospital and didn't get to hear him talk back to me because he was in a coma. I felt like he was talking to me through these songs—even getting back at all the evil people that were doing him wrong before he left. It's almost like he wanted to tell us all of this before he was in a coma, but now he was able to.
On "Take Flight," were you ever tempted to tell Freddie Foxxx not to say what he said about Solar in his verse? ["On Gu' and them, I'll never let Solar rest."]
Bumpy is going to do what he's going to do. He stands by it, and I ain't going to ever tell him to change that. If Solar has a problem with that, he can take that up with Bumpy. I didn't say it, he said it, and he has the freedom to say it. But at the same time, I get it, because we're all hurt by the way the dude died. We're hurt by all the stuff that didn't take place like checking up on his kids, checking up to make sure the family's straight—none of it happened. I've been making sure his son has been straight since the day he passed. I made that promise to him on his hospital bed, while his eyes were fluttering, and the respirator is making his lungs go up and down while he's breathing. It just looked like a terrible sight. That shit made us angry.
I remember when he died, Branford Marsalis called me. We used to live with him and his wife and his son back when Daily Operation was being recorded. Branford was just about to be the new music director for The Tonight Show with Jay Leno, because Johnny Carson was stepping down. He said, "Man, I hope you're not going to take this the wrong way. I don't feel sad for our boy." I said, "What do you mean?" He says, "I don't feel sad, man. I'm fucking angry. Why is this dude around people that don't have genuine love for him? He should still be here." I was like, "Branford, I understand, bro. I ain't taking  offense to you saying that." That's how mad we felt, because he should not have gone. It's not because the doctors did him wrong. It's because he was around the wrong energy prior to his passing.
Branford marsalis said, "I'm f*cking Angry. He should still be here." That's how mad we felt.
This guy's been part of my career since 1988. You can't ever remove the history of it. We were all more mad than sad. Then I was like, "Man, that dude records a lot of music all the time. I know there's got to be some existing music somewhere in [Solar's] possessions, and I've got to figure out how I can get my hands on it." It took me seven years. I was willing to pay from the very beginning. I was like, I could definitely make a Gang Starr album. That's when I called [Guru's] family. I asked their permission to do this album with their blessing. And they were like, absolutely.
Even at his funeral, his father brought me up to speak. His father, when he introduced me, said, "I just want to say this: I don't care what ups and downs he had with my son. I love this man. The happiest days of my son's life besides being part of our family was having Premier in this group Gang Starr, and now he's going to come up here and speak. Come on up here, young man." And I was like, wow. That made me feel good that his father still recognized me in that type of a light.
You didn't use all of the Guru a cappellas you have on this album, right? 
There were certain ones that I just wasn't feeling. Either his delivery, or he sounded like he was drunk and stuff like that. Because I know the different tones. He has drunk sessions that came out amazing. "A Long Way to Go," he is super wasted. He sounds amazing on it.
Finally, what do you want people to remember most about Guru?
Like the title, one of the best yet, man. That's exactly what we are. I don't think we're the best, but we're definitely one of them. I feel like this album definitely puts him back where he would have been if he physically was here. It sounds like what he would have done if he wrote to my tracks now. Definitely does.