Interview: bLAck pARty on His New Album 'Endless Summer'
Nearly three years since his debut release, 'Mango,' bLAck pARty returns with 'Endless Summer.'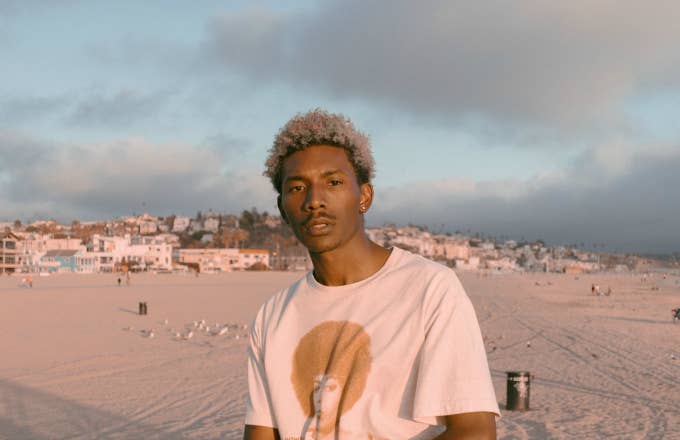 Publicist
Photography by Manny Singh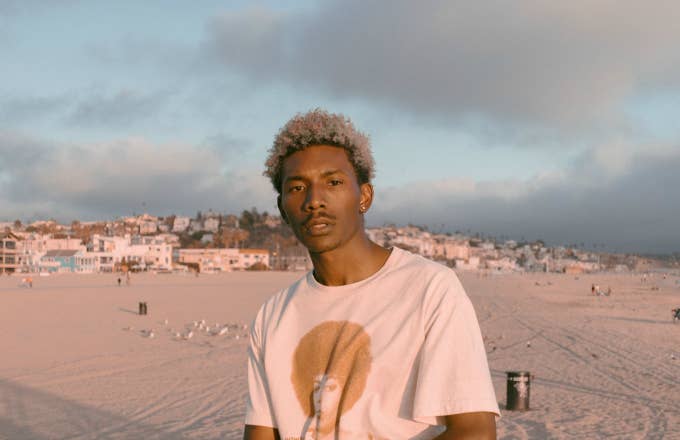 Summer may be coming to a close soon, but if you ask Malik Flint (better known as bLAck pARty) the season doesn't have to end just yet. The Los Angeles-based, Little Rock, Arkansas artist offers up Endless Summer, which serves as the first proper release through Childish Gambino's Wolf + Rothstein deal with RCA Records. A follow-up to 2016's Mango, Endless Summer finds him showcasing a retro sound that could fit nicely into rotation if it came out in the '70s, yet still feels fresh for 2019.
Complex caught up with bLAck pARty over the phone earlier this week, for a conversation about the moment that kick-started work on Endless Summer, what role his family played, and how a trip to Australia influenced the project. The interview, lightly edited and condensed for clarity, is below.
Endless Summer comes almost three years after your debut project, Mango. When did work for this album begin?
Just like any other musician, I feel like I am always making music, but as far as officially, I would say summer 2017. I think that was June of 2017.
In between the time of doing Mango and this new project, were there any specific moments that happened in your life that influenced where you wanted to take the project?
Absolutely. I feel like always something bad happens and that usually takes things in a great direction.
Originally, I had to go to Governors Ball because Donald was performing. The day I was supposed to fly out, my car ended up shutting down on me on the highway. I basically had to leave it there, Uber back home, take a nap for three hours. I was super bummed, but I'm like, "I also have to fly to New York." While I am on the way to New York my parents were like, "Yeah, the car is not there," 'cause I left it at a gas station. I'm like, "Alright, well, I guess I am coming home to no car."
When I came home, I didn't have a car, there was literally nothing I could do, so I just immediately started recording. And that is when I came up with the record "Smoke Break II" in July.
And then just kind of built from there?
Yeah, everything built from there. Then I got into the studio a couple days after I got back to L.A. Got in the studio and pretty much was there every day for two months straight, from 4:00 p.m. to 4:00 a.m. That time was funny because it kind of felt like The Twilight Zone, or Groundhog Day really, because it is like you are repeating the same day. The only thing that changes is who comes to the studio, but everything else felt super the same.
When you made Mango, it was developed in a space called "the factory" where there were other members of Royalty working on stuff. Was there a similar creative space for Endless Summer?
Yes and no. Endless Summer started off between two creative spaces; my parents' home where I was staying, and then Donald's home studio. At my parent's home, I would work with my parents and demo out stuff and work, and then I would take all that to the studio. The studio was actually more of a difference, because a lot of the time I spent there alone, as opposed to the factory. The factory, it was always something going on for the most part. But at the home studio, it was only something going on because I was bringing people there. It was more dependent on me to create the vibe of what was there.
You mentioned working with your family. They pop up in places throughout the album. What was that experience like?
It was dope. I have always been close with my family. We have always been kind of musical, but as I've gotten older, all of our music kind of goes together. My brothers are in a rap group and I have them both on the album. Then I have my mother, my sister; my dad songwriting. So, there's a lot of collaborative energy. Having them in the studio was dope. Or my cousin [Maya Smith], she's on "Spell," she came by the studio. It's always a lot of support behind having family in the studio.
There's really strong instrumentation with this release. "Dancing," "July," and "Lay" have that summer time vibe. You could also two-step to them. How important was it to emphasize the instrumentation to bring that sound to life?
It was all a part of approach. I always approach every project with a general list of goals. For this project, I wanted to really create vibes and grooves, kind of like a lot of the '70s records. While working on the project I listened to a lot of records from the late '70s, a lot of Fela Kuti, a lot of different vibes and a lot of percussion-heavy stuff. What I geared towards with this project was to make a project that felt complete. Everybody has their top three records that they could listen to front to back, no skipping. And that was my purpose, to make a project that you could listen to, back to front, front to back, and you would not have to skip a song. It would just be a complete vibe throughout the whole thing.
"Purple Heart" is another song that brings the funk. Can you break down what the title and song is inspired by?
"Purple Heart" was written by my father, who's retired Army. He originally wrote the lyrics, and I took the lyrics and made a melody into it, created vamps, just general ideas. It has a lot of military references and it is very reminiscent of that world of being a soldier. The song is pretty much about heartbreak, but it's tying in that heartbreak to being a soldier. It's a double meaning: someone's relationship to their country, or it could be someone's relationship with their significant other. Military is the ultimate loyalty.
On the last song, you are heading off to Gold Coast, Australia to continue that "endless summer" vibe. Could you find yourself going to Australia when it's winter time over here?
Absolutely. It's funny, every day I contemplate whether I should move to places like that when it becomes winter time, because that is what originally sparked the idea for the title. The only place I really performed Mango records was Australia, so I got to go places like Gold Coast, Melbourne, Sydney, Tasmania. When I had to go to those shows, I had to fly out the day after Christmas, and I live in L.A. The weather is pretty great year-around, but once December hits it's a toss-up. It could be cold or it could be hot. This December, specifically, was really cold, so I pretty much worked from cold weather and I was going to Australia and knew nothing about Australia, so I didn't know what the weather was and I didn't think to look it up. I just packed whatever I had at my disposal. I was like, "Alright, well, I am ready to go." I got to the airport and was talking to a guy from Melbourne. He was like, "Yeah it is going to be blah de yada Celsius in Australia." I'm like, "Celsius? What is Celsius?" So I look it up and I am like, "A hundred degrees? Jesus."
Being at the beach basically from Christmas time to past New Year's, it was like I got to escape the winter time for a split second. Everybody out this way, they go on their summer vacation around this time of year. So, it is like essentially summer doesn't exist, but it does at the same time. Technically summer is year-round for somebody in the world.
That's an interesting way of looking at it. In putting this project together, is there one thing specifically that you learned about yourself?
I feel like I learned two main important things. On one hand I learned patience, to actually make a project and then go through the whole entire process that involves so many different steps after just the music. And then, all just the politics of life, period. Being able to withstand all of that and keep the music at its best. And just being patient and letting things take their course. And then on the other hand, I feel like I learned—it is still a learning process—but I learned how to make an album from top to bottom, from writing to mixing to producing to performing, recording instrumentalists. I basically had to learn all that while doing it. Now I can take that with me, and I learned tricks and different tools to further myself as a musician. I will definitely take that with me moving forward.