Interview: SebastiAn And Gallant Discuss The Art Of Collaboration
How the introspective crooner opened the Parisian producer up to a new way of working.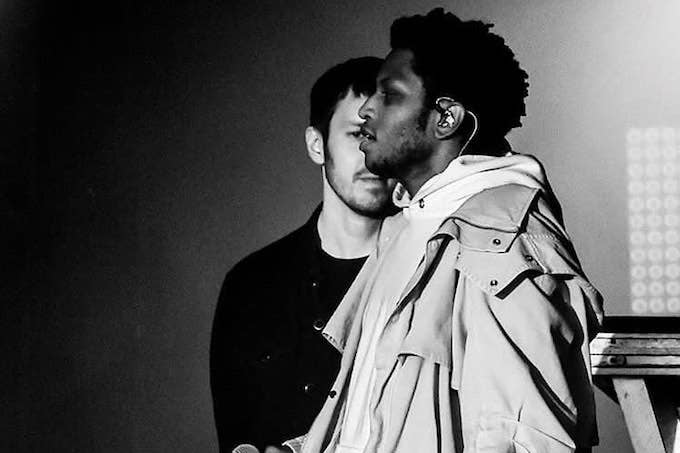 Publicist
Image via Anthony Ghnassia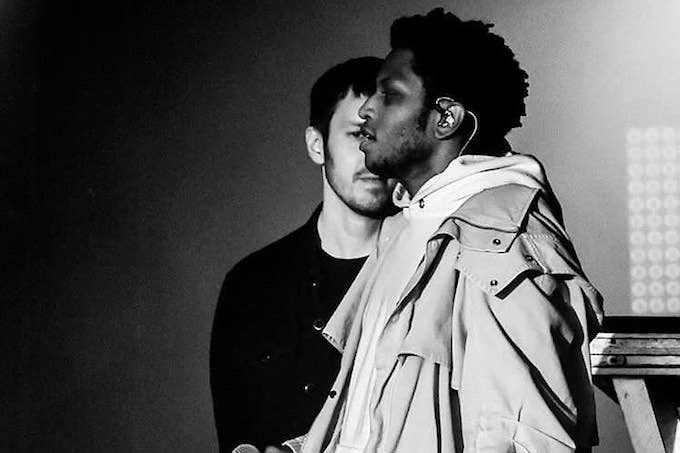 For quite some time, Ed Banger producer Sebastian 'SebastiAn' Akchoté was more than content in creating music on his own. Collaborating and working with vocalists or other producers requires a lot of planning and it makes spontaneity and working on something that just comes to him somewhat difficult. But then, several chance occurrences fell into place, beginning with invitations from Charlotte Gainsbourg to producer her Rest album and then Frank Ocean hit him up to contribute to some of the cuts on Endless ("Rushes", "Slide On Me" and "Higgs", if you were wondering). That process opened Seb's eyes to a different way of creating music.
For his forthcoming LP, Thirst (due for release on October 25), he's collaborated with a range of artists from all over the world, most of whom Seb met while on tour. Of those, we've already heard his team-up with R&B singer Gallant, "Run For Me", and it suggests an album that is going to stretch far beyond the sawtooth electro bangers we're used to from him. We caught up with SebastiAn and Gallant after the explosive performance at this year's We Love Green Festival in Paris. Throughout our sit-down conversation, we were interrupted by intermittent cacophonies of fireworks—which for a Parisian, an American and a Londoner, didn't make for the most relaxing of settings.
Still, we somehow made the best of it and got to the heart of both artists' upcoming albums.
COMPLEX: That was a pretty nuts set. Are moshpits like that a standard at your shows?
SebastiAn: Most of the time, yes. That's the point of the show. It's what it's all about, making something intense like that. That's the thing I like. If I'm sweaty, I want everyone to be sweaty. I want life to be extreme. I'm not interested in the middle. 
So the big question is how did you come to working with Gallant on "Run For Me"?
SebastiAn: I called Gallant a few years ago because I really loved what I've heard of his music and his first album. I suggested we work together and he accepted, so I went to LA where he was and I arrived with some mock-ups in about three or four different parts. I was surprised because, straight away, he just killed it! It was really impressive for me to see this and it was easy, just like our performance today.
Was that the first time you'd performed the track live?
Both: Yeah, that was the first. 
SebastiAn: I thought it would be cool to take a track like this, which is very different, and perform it in the middle of those noisy tracks when the crowd is chaotic like that. I thought it was a good bridge. My music is full of bridges and it worked really well. 
Have you guys worked on any other tracks?
SebastiAn: For now, nothing. 
Gallant: It's crazy because, for me, it was such a relief when I heard SebastiAn was going to release the track and that he was going to have a new album. When he emailed me, I said yes so quick because I used to read a tonne of music blogs. I was deep into that world and it's changed a little bit but I was so thankful for that ecosystem because it introduced me to so much incredible music. So SebastiAn's album—you couldn't get away from it. It was everywhere! It was only two years ago that we recorded it, but I feel like that song's been in so many different forms and evolved so much to get to its final form. It feels like it was sitting there for so long, so when I heard it was actually going to be out in the world and everyone was going to be able to hear it, it was symbolic for me. For me, it was like: "Okay, this is when the levee breaks."
Is this the first time you've played in France, Gallant?
Gallant: No, I was here in 2017 and then again in 2018 doing a small run of shows in Europe. So this is my third or fourth time. Every time I'm here, it feels like a new experience; I get to see a whole different reality, every time. For example, this is the first time I've been to a music festival in Paris so this is my first time experiencing what this vibe is like. 
Is that how you both prefer to work, that spontaneous, organic approach?
SebastiAn: For me, if something is working, let's do it. I'm not a big, calculating guy. I'm never thinking I have to do this at this point and then do that and so on. Of course, I'm thinking about the show and everything beforehand but I don't have a big master plan. For me, music is something very direct and it has to be sincere. For example, my show is very simple. I haven't arrived with a million lights. I only bring the things I need and nothing more. By now, the shows are a competition of more and more craziness so I wanted to focus on the music. These kinds of audiences are more into being spontaneous and not spending 1 million hours waiting for something and having a big stage show with lots of people. The fact is, I don't want that either. 
Obviously, as a producer, you must be used to working solo now. Was it a different process working with a vocalist?
SebastiAn: Me, I always make the mock-ups with gibberish lyrics. I do this a lot so when I proposed it to him it was not an obligation for either of us. I made it and he did it his own way. I don't write lyrics because I'm too French [laughs]. I can do interviews in English but with lyrics, you really have to feel it. It would have to be interpreted by the singer and then write the song that way. Gallant did it perfectly, but for now I'm going to stick to saying nothing [laughs]. 
I hear you've been working on a new album, Gallant. Is there anything you could tell us about that?
Gallant: I had a couple of false starts with it, but now I really like where it's at. I just dropped "Sharpest Edges". I'm excited about it and so are the people who've heard it. 
Sound-wise, what can we expect?
Gallant: It's very nostalgic. It feels like it comes from a wooden box. I feel like people are going to see me as a person for the first time and not just a collage of different vibes that I like. They'll actually get to hear me speak for the first time. The wooden box thing is the best way I can think to describe it.
Why is that?
Gallant: Well, it went through several different versions and there were certain things behind the curtain. Honestly, I think my first album and even the first EPs before that, I would write maybe 14 songs and nine songs would be on the EP, and I'd write like 20 songs and then 14 would be on the album. This time round, I wrote over 100 songs and it went through so many different changes. I got a block of marble and I spent a bunch of years chiseling and making a statue of myself out of it. The statue is cool and that's what the album is, and all the little scraps can be their own little things too. So when SebastiAn told me the song was going to come out it was perfect timing because symbolically, the levee was breaking. I'm just excited to see how everything goes.
SebastiAn: I can't wait to listen to his album. 
Gallant: Likewise! I can't wait to hear your album, too.
SebastiaAn, what can you tell us about your upcoming album Thirst?
SebastiAn: I made this album at a time when I was producing music for two different people: Charlotte Gainsbourg when she was living in New York and, at the same time, Frank Ocean had called me. So I was working on two very different projects and, during this time, I met some people and there was something born out of meeting and working with all those people. Before, I was mostly making instrumentals for clubs. This time, though, I wanted to collaborate with a lot of people that I've met. I created it to be like a tour diary; it gets a little bit from everywhere. For example, I was doing a show in Tokyo and I wanted to record someone. I met some artists through a friend and then a couple of years later, it had become an album.
It felt like you guys had a lot of chemistry on stage together. Will you guys be doing any more live shows?
SebastiAn: For now, no. If our paths cross at festivals, then of course. For now, nothing is prepared. We'd love to do this again but we'd prefer it to be spontaneous. We'll see.
Gallant: It's literally like if your friend texts you like "Yo, what's good?" and you hang out. It's not planned way ahead, it's all based on real shit. It's not set up or anything. It was such a great experience on top of people actually getting to hear the song and to actually sing the song live for the first time and to see the reaction… I'd love to do it again. But yeah, it has to be an organic thing.